2012 JCU graduate and East Asian Studies major Hui Sian Tan's prize-winning Senior Honors Project has been accepted for publication in the Wittenberg University East Asian Studies Journal.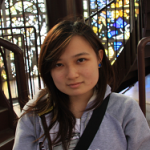 The essay's title is,
"The Essence of Non-duality in Zhu Ziqing's Wenzhou de Zongji"
Though seldom translated, Zhu Ziqing's essays have been included in every Chinese school syllabus and every anthology of modern prose since the 1930s.  The paper provides Hui Sian's translation of his essay, "Wenzhou de Zongji," and some contextual material: a brief biography of Zhu Ziqing; an exposition on the Chinese literary essay genre, sanwen; a history of translation theory in China; a reflection on the translation theory she adopted for this essay.  Finally, she analyzes the essay itself.  In doing so she dissects the non-duality within both its content and style.
Posted on April 17, 2013