Dear alumni and friends of John Carroll University,
I am pleased to present this year's annual Honor Roll of Donors. On behalf of our students, faculty, staff, and alumni, I sincerely thank you for your generous support of John Carroll during the past fiscal year (June 1, 2016 to May 31, 2017). More than $12,000,000 was raised in FY 2017 – which is the highest in the last twelve years.
John Carroll University educates the most promising students and prepares them for a lifetime of learning and of responsible leadership, through a faculty dedicated to teaching. Each and every gift is an ongoing expression of confidence in the future of John Carroll University, and helps to enhance the transformational learning experience of the Jesuit Catholic education for our more than 3,000 students.
Alumni giving accounted for 63 percent of all gifts, and 68 percent of all donors gave $100 or less. Thank you for your continued support in making a difference by providing opportunities for the next generation of leaders, entrepreneurs, scholars and business professionals. Together we will build a strong future for our community.
Sincerely,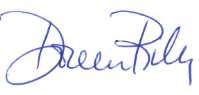 Doreen Knapp Riley
Vice President for University Advancement