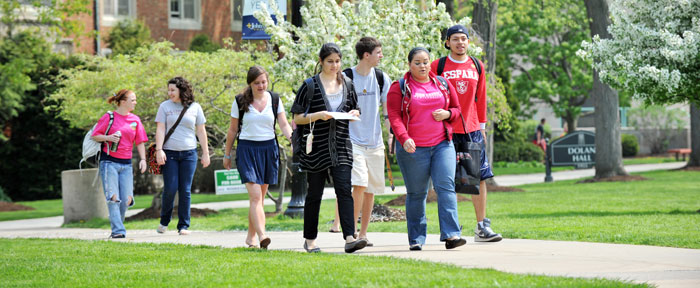 The Diversity Steering Committee (DSC) was established in April 2011 by Rev. Robert L. Niehoff, S.J., president of John Carroll University. When he announced the committee to the campus, Fr. Niehoff said the charge of the committee is "to set institutional goals, monitor and assess progress in attaining those goals, offer guidance to offices and individuals, and to examine models to create an Office of Diversity and Inclusion" as recommended by the Diversity Task Force.
With the hiring of Dr. Terry Mills as Chief Diversity Officer in August, 2014, the title of the DSC was changed to the
"Diversity, Equity and Inclusion" Committee to reflect the new direction of the committee towards, not simply diversity, but institutional excellence.
Current DEI Committee Members
Medora Barnes, Associate Professor, Dept. of Sociology & Criminology and Chair, Faculty Council Committee on Gender and Diversity
Sloan Cargill, Call Center Director, University Advancement
Danielle Carter, Director, Center for Student Diversity and Inclusion
Sherri Crahen, Dean of Students
Tonya Strong Charles, Director of Media Relations
Terry Mills, Assistant Provost for Diversity and Inclusion (chair)
Nancy Taylor, Assistant Professor, Department of Education and Allied Studies
Brian Williams, Vice President for Enrollment
David Wong, Executive Director of Academic Finance
Rev. 12 Jan. 2016