Jim Ryser, MA, LMHC, LCAC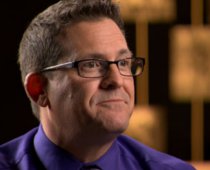 Jim Ryser came to his current job as Program Manager of Pain Services at Indiana University Health Methodist Hospital quite honestly.
Having had a successful music career both as a solo artist and a guitarist/violinist with John Mellencamp in the 90's, it took a turn.  A lifetime of pain, compromised health, and pain management in the liberal opioid style of the '80's and '90's led to pain rehabilitation in 1991. Jim decided almost immediately that his experience from the pain of over 50 surgeries might have value, so he left music to pursue his education.
He graduated Summa Cum Laude from Indiana University in 1999 with a BA in psychology with a minor in biology.  After graduation in 1999 Jim came to terms with the opiate addiction that resulted pain associated with spina bifida.  He went through the Cleveland Clinic's abstinence based addictions program and has been sober ever since.  It was during this time that Jim, encouraged by his treatment team, decided to change careers and go into pain management; it was a chance drive by near John Carroll University that took him to the Master's Program in Counseling and Human Services.
Jim obtained an internship through the JCU/Cleveland Clinic program, and became the first recipient of this internship.  He trained for pain rehabilitation at the Cleveland Clinic under Dr. Ed Convington and finished his addictions fellowship under Mike Denton and Dr. Fred Frick at IU Methodist.
Jim's music and current career brings him here today to share his experience, strength, and hope along with his most recent expertise resulting from the prescription drug epidemic in the state of Indiana.  He currently works with attorney general Greg Zoeller as a chief advisor for the AG's Prescription Drug Task force.  He is active with the DEA helping to reduce pill mills in the state of Indiana.  His pain rehabilitation program focuses on helping his patient population learn to manage pain without mood altering medications, with a focus on the 12 steps.
He has spoken nationally about the perils of addiction and chronic pain both clinically and as an entertainer, with a focus on recovery as a lifestyle.  He still loves music as much as ever as the principal music producer for hunting shows Midwest Whitetail and Cabela's Spring Thunder.
Jim credits his education at JCU to be one of the more valuable parts of his career because of the intimate environment and real world training that JCU's program provided.
Fr. Kevin Conroy, Ph.D.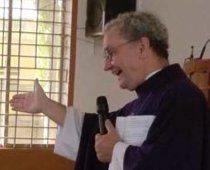 Since graduating from John Carroll, Fr. Kevin Conroy has completed a PhD with a Counseling Specialization from Cleveland State University. His dissertation entitled "Guatemalan Immigrants Experience of violence, torture and war: Speaking in there own voices" was one of five dissertations chosen several years ago by CSU to present to the University's National Accreditation Committee. He was also chosen by CSU for the Distinguished Alumnae Award for the College of Education and Human Service for his work with Cambodian orphans who are living with HIV/AID.
Fr. Conroy has spent the last 9 years working in Cambodia as a Maryknoll Associate Priest/ Psycholigsist. During these years he has held various positions with the Seedling of Hope program. He currently also teaches at the Royal University of Phnom Penh M.A. in Clinical Psychology and Trauma treatment program. In 2011, he supported the First National Survey of Mental Health in Cambodia. This was a randomized study that helps develop mental health programming in Cambodia.
Recently, Fr. Conroy has developed the Maryknoll Mental Health Program in Cambodia. This program has goals of developing mental health outreach where there are no mental health professionals, as well as educating Cambodians living in the rural areas about mental health. In order to fulfill this mission, Fr. Conroy has created the Mobile Team for Mental Health and Mental Health services at St. Luke's Sick Shelter in Phnom Penh.
Please visit www.seedlingofhope.org to learn more about the Seedling of Hope program and Fr. Kevin Conroy's work! Also, be sure to read the following article: From the Killing Field to Compassion- Fr. Kevin Conroy
Martina Moore, Ph.D.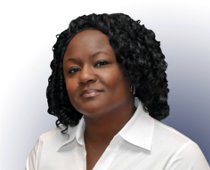 Dr. Martina Moore achieved her Masters in Counseling and Human Services at John Carroll University.  While matriculating at John Carroll, Dr. Moore was the Director of Addiction Services for Laurelwood Hospital.  While serving in this capacity, she oversaw four locations and a team of over 100 professionals.  Following graduation from John Carroll in 2000, Dr. Moore opened her private practice, Moore Counseling & Mediation Services, Inc.  Dr. Moore received independent licensed as a chemical dependency counselor upon graduating from John Carroll, and she is dually licensed as a Licensed Professional Counselor.
Since graduating from John Carroll, Dr. Moore's counseling practice has grown into six locations specializing in Outpatient treatment for substance abusing and dual diagnosis clients.  Moore Counseling also specializes in providing Employee Assistance Programs (EAP), having EAP contracts with local and national organizations.  In 2011, she began her Ph.D. program at Walden University in Counseling, Education, and Supervision with a specialization in consultation.  She completed her program and her dissertation on the Utilization of Motivational Interviewing with the Dual Diagnosis population in May 2015.  She is a trained Gestalt therapist form the Gestalt Institute of Cleveland where she is also serves as faculty specializing in couples and family counseling.
Dr. Moore's primary focus since completing her studies at John Carroll has been to build programs and services to assist clients who suffer with addiction and mental health concerns.  She is a public speaker with a national platform, who trains professionals on various topics including professional development, working with clients who are addicted, motivational interviewing, and supervision of the counselor amongst other topics.  She advocates for clients who have mental health disorders by working to ensure that clients in need get access to superior quality care for their specific disorder.
More recently, Dr. Moore has been working in collaboration with several local municipalities and mental health agencies with providing services for clients who are addicted to heroin and other opiates.  This task force has begun to identify interventions and prevention tools to decrease the amount deaths associated with heroin and to address the needed treatment services for this population.  In fall 2014, she began teaching a substance-counseling track for bachelor and master level students at John Carroll.  This program allows students to become certified and/or licensed before graduating or immediately upon graduation.
If you were to ask Dr. Moore what her motto is in life, she stands with the Jesuit mission to of being "a woman for others".