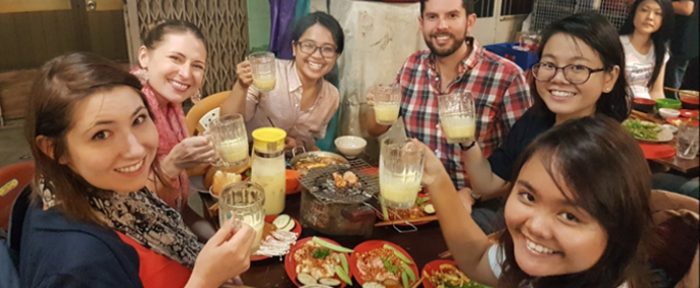 During the 2018 Summer 3 term, Dr. Gehlert will lead a study-abroad course for students in the John Carroll counseling program. The course, entitled Multicultural Counseling: Immersion in Vietnam, will fulfill the requirement for CG563 Diversity Issues; it may also be taken as an elective for students who have already taken or will take CG563 at John Carroll. The course is an exciting opportunity to learn about issues related to multicultural counseling and diversity while experiencing an encounter of self and other in a foreign culture. The course will involve 12 nights and 11 full days in Ho Chi Minh City (HCMC), where we will be hosted by the Department of Psychology at the University of Social Sciences and Humanities (USSH). You may view this Google Slides presentation to see photos from Dr. Gehlert's previous work in Ho Chi Minh City and learn more about the course. Please see the Application Page to apply to participate by Friday, February 9; questions about the course may be directed to Dr. Gehlert.
Here are some preliminary highlights about the course:
Attend several combined classes with psychology students at USSH to learn together in a multicultural setting.
Visits to hospitals, schools, clinics, and for-profit centers to experience how the fields of counseling and psychology are developing in Vietnam.
Students will participate in a psychology conference to learn about various topics relevant to the field of psychology in Vietnam.
Cultural exploration in Ho Chi Minh City, including museums, markets, restaurants, and nightlife.
Visits to Buddhist Pagoda and Catholic Convent to learn about the role of religion and spirituality in a communist country.
Day trips to the Mekong Delta and Cu Chi tunnels.
The tentative schedule calls for students to depart Cleveland on Saturday, July 28 and return on Friday, August 10 (actual travel dates may vary by +/- 1 day, depending on flight availability). The cost of the course is $3,990, which includes tuition and all travel costs – airfare, hotel, meals, local transportation, entrance fees for cultural excursions and day trips, and Vietnam visa. Students are responsible for costs associated with obtaining a passport and any necessary vaccinations. Students on financial aid are encouraged to speak with the Student Enrollment and Financial Services office about aid eligibility during the summer term.
After summer 2018, the next opportunity to study in Vietnam will be summer 2020.