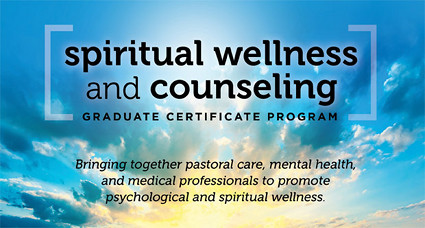 This program is being discontinued and the department is exploring the possibility of relaunching it as a continuing education series. If you would like to be added to a list of interested participants and receive update notifications, then please email the department at counseladmin@jcu.edu.
John Carroll University's Spiritual Wellness and Counseling certificate program is specifically designed for:
Pastoral care professionals of different faith traditions seeking additional training in recognizing and responding to mental illness and profound mental distress.
Mental health professionals seeking an enhanced understanding of the role of spirituality in their clients' lives.
Medical professionals seeking a deeper understanding of how spirituality and mental distress can affect their patients.
The program brings together these professionals to broaden their understanding of the helping process, and to ensure they have a more nuanced understanding of spirituality, counseling, and the complexity of the whole person.
Program Outcomes
The certificate program helps students enhance their knowledge and abilities to:
Respond appropriately to individuals who express mental health and/or spiritual concerns.
Assist those who desire to integrate their spiritual perspective with their psychotherapeutic or medical treatment.
Discern when referral to another professional is needed and how to locate an appropriate professional for the referral.
The program also helps pastoral care, mental health, and medical professionals develop the skills needed to collaborate to best serve the interests of those they are endeavoring to assist. Students are admitted as a cohort that progresses through the program together, sharing their experience and expertise while learning from colleagues.