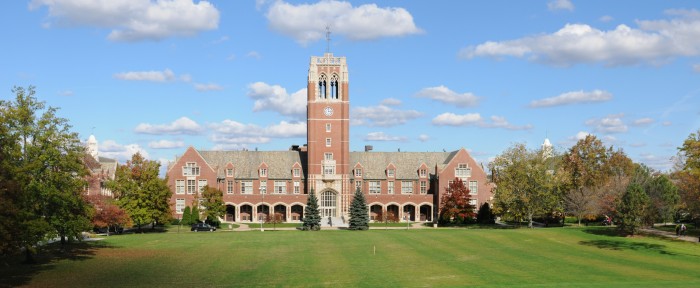 When you talk to graduates of the Department of Counseling, you'll quickly learn about how rewarding and fulfilling it is to work as a counselor. Our students are often drawn to be counselors because they want to help people grow, heal, recover, or find meaning in their lives. There are many ways to describe the clinical work that we counselors do, but at the heart of our work lies the intersection of skill, passion, and relationship.
Counselors work in schools, hospitals, clinics, community agencies, and private practices. In the Department of Counseling, we train students to be either Clinical Mental Health Counselors or School Counselors. Both of our accredited tracks lead to licensure by the State of Ohio. Clinical Mental Health Counselors provide many services, including psychotherapy (i.e. talk therapy), assessment and diagnosis, treatment planning, substance abuse treatment, crisis management, and prevention programs. School counselors work with students, teachers, and parents to help students in their academic, personal, and career development.
The John Carroll Experience
U.S. News & World Report consistently ranks John Carroll among the top ten master's-degree granting universities in the Midwest. When you wander the halls of the Counseling Department, you'll find that our doors are open. Our faculty is committed to developing deep and meaningful teaching and mentoring relationships with our students. We bring a diverse set of skills, knowledge, and experience to our teaching and supervising. Our classes are small – none large than 20 students, and many with as few at 15 or 8. Our courses involve discussion and practice, rather than solely lecture. Typically, in the second year of enrollment, students begin their practicum and internship fieldwork. In a clinical or school setting of their choice, students begin to practice the science and art of counseling. During this time, students receive formal supervision on site and at John Carroll. At graduation, the outlook for our students is bright because of their strong reputation in the community. This, and the numerous connections our faculty has with local employers, positions our graduates as top candidates on the job market.
Some of our graduates continue their education in doctoral programs, typically in the fields of counselor education or counseling psychology.
Mission and Goals
For over 45 years, the Department of Counseling and its institutional predecessors have worked to inspire professional counselors who embody the Jesuit essence of "persons for others."  The Department endeavors to:
Offer a broad-based education that will prepare students to become competent and effective professional counselors.
Ensure awareness and understanding of multicultural issues, as well as a mindfulness of the evolving pluralistic and technological society.
Promote commitment to the counseling profession through involvement in professional counseling organizations and in other activities that encourage professional identity as a counselor.