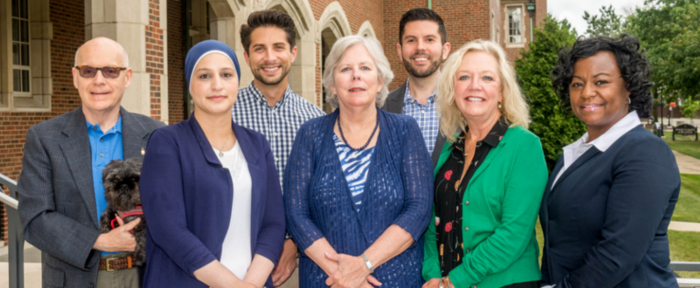 The faculty members in the Department of Counseling are dedicated to working closely with students to promote their academic and professional growth. The Department's core faculty include Dr. Cecile Brennan, Dr. Paula Britton, Dr. Tahani Dari, Dr. Nathan Gehlert,(department chair), Dr. Martina Moore, and professor emeritus Dr. Christopher Faiver (pictured above with adopted rescue Princess).
Our dedicated adjunct faculty enrich the Department and expose our students to a broad diversity of backgrounds and clinical experiences.
Each year the Department hosts doctoral interns from local universities. These interns teach courses in their areas of expertise and supervise John Carroll counseling students in their internships.