How does Counseling Work?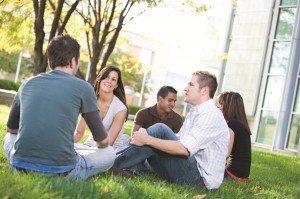 Individual Counseling
Counselors are available to meet on an individual basis with students seeking help. The student seeking counseling can talk confidentially about anything that is on his or her mind. Students often seek counseling to deal with family difficulties, relationships, stress, loneliness, eating problems, or sadness.
Consultation Services
Faculty, staff, parents, and students who are concerned about someone else can consult with our counseling staff.
Educational Workshops and Self-Help Resources
Our staff offers workshops and programs that support student development to the entire campus community. Self-help brochures on a wide variety of topics are available free of charge at the Counseling Center.
Psychiatry
 A psychiatrist is available at the counseling center on a limited basis to provide assessment and medication monitoring for students engaged in counseling services.
Emergency Services
We offer an emergency consultation time each day to assist students experiencing an urgent crisis.
Counseling Center staff can be reached for emergency consultation during regular office hours by calling 216.397.4283.
If a life-threatening emergency occurs after hours or on a weekend, students should contact Campus Safety Services at 216.397.1234 or contact local resources such as The Cuyahoga County 24-Hour Mental Health Hotline at 216.623.6888 or the Suicide Prevention Hotline at 800.SUICIDE (800.784.2433).
What about Confidentiality?
All information shared during the counseling experience is held in complete confidence within the Counseling Center, except in cases where there is imminent danger to the individual or another person.
How do you make an appointment?
An initial session can be scheduled any time between 9 a.m. and 5 p.m., Monday through Friday.  The session usually lasts about 50 minutes. There is no charge to students for counseling through the Center. Call 216.397.4283 to make an appointment.
What can you expect at the initial session?
The session usually lasts about 50 minutes. During this time you will be asked to provide some background information about yourself and the circumstances that brought you to the Counseling Center. The intake counselor will also explain the services of the Counseling Center that you might find most helpful. Future sessions may be with a different counselor than the one you will be speaking with during your initial visit.
Fees?
The services of the Counseling Center are offered free of charge to all students currently enrolled in credit courses at John Carroll University.
Where are we located?
We are located two doors down from the tennis courts at 2567 South Belvoir Boulevard. View the Campus Map to see the location of our offices.