Practicum and Internship Opportunities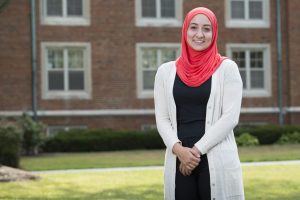 JCU's Counseling Center provides practicum opportunities for local students from doctoral programs in counseling and clinical psychology.  Depending on staff availability year-to-year, we may also provide internship opportunities for students in masters programs as well.
The emphasis of our training program is on developing the student's therapeutic skills and familiarizing them with a university counseling setting.  The University Counseling Center provides free, confidential, short-term counseling to students currently enrolled at JCU.  We also offer psychiatry, consultation services, psycho-educational workshops, and outreach programming to the wider campus community.
Practicum students are expected to spend 16+ hours per week at the counseling center and are expected to conduct intakes, provide individual counseling, participate in the planning and facilitation of outreach/psycho-educational programs, attend weekly staff meetings and group supervision, and receive at least one hour of individual supervision per week.  Practicum students will also have opportunities to present formal case presentations and to lead a didactic training during the year. Additional training opportunities for group counseling and consultation services are also sometimes available.
Typical dates of training are from the end of August through early May.
Applying to JCU's Counseling Center
The Counseling Center accepts applications and conducts interviews between January and March every year. Applicants would preferably have already completed a therapy practicum prior to beginning their training experience at JCU. Applicants should send a cover letter, CV/résumé and at least 1 letter of recommendation (preferably from a practicum supervisor) via mail or email:
Mark Onusko, Psy.D.
Director, University Counseling Center
John Carroll University, 1 John Carroll Boulevard
University Heights, Ohio, 44118
Or email your materials to monusko@jcu.edu
Call us at 216.397.4283 for further information.