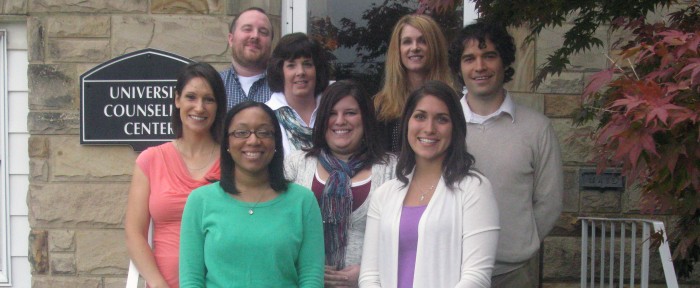 Mark Onusko, Psy.D.
Director & Staff Psychologist
I feel very fortunate to have the chance to work with students here at John Carroll University. I believe counseling can be a valuable, even life-changing experience for people, and I really enjoy helping students learn more about themselves through this process. The Counseling Center is a great resource on JCU's campus and I hope you will stop by some time to check us out.
I've been working at JCU's Counseling Center since 2013. I earned my BA in psychology at the University of Notre Dame, and my doctorate in clinical psychology at the Adler School of Professional Psychology in Chicago. I completed my post-doctoral fellowship at University of the Sciences, my doctoral internship at University of Pittsburgh, and part of my pre-doctoral training at Northwestern University. I also have experience working in a variety of other settings including high schools, community mental health centers, halfway houses and psychiatric hospitals.
Some of my clinical areas of interest include anxiety, depression, LGBTQ concerns, identity development, sleep hygiene and cognitive-behavioral & mindfulness approaches to  therapy. Additionally, some of my professional areas of interest include prevention, mental health administration, and the provision of supervision and training. At JCU's Counseling Center, I coordinate our graduate training program and our services through The Relaxation Room in the library.
---
Alia Lawlor, M.Ed, LPCC-S, CCMC
Staff Counselor
I am very much looking forward to working at the UCC as a full-time staff counselor this year!
After doing my internship in a college counseling center, I knew that working with college students would be my number one career goal as a mental health therapist. Students, regardless of age, are typically at a convergence of many personal and developmental challenges, and helping facilitate those changes is exciting and fulfilling. In addition to college counseling, I've worked in private practice counseling doing individual and couples therapy, and corporate workforce development in a career counseling context. I also have a strong background in presentation development.
My areas of interest include, but aren't limited to, meditation, mindfulness, women's issues, anxiety and depression, sexual and emotional abuse, LGBTQ concerns, schema therapy, and nutrition as related to overall mental health.
---
Nathan Lamkin, Psy.D.
Part-time Staff Psychologist
First, I want to express my pleasure to be able to work at the JCU counseling center. I look forward to serving the students of JCU.
I started working part-time at the counseling center this academic school year. I also work at a group practice in the Northeast Ohio area. I earned my BA in psychology at Miami University and my doctorate of clinical psychology at Indiana State University. I completed my pre-doctoral internship at Philhaven Hospital, a psychiatric hospital where I treated people both at an in-patient and outpatient setting. Following my internship I worked at Franklin and Marshall College where I did both clinical work and teaching. I also have working experience in a community mental health agency, middle school, residential treatment facility, jail, and crisis center hotline.
Some of my clinical areas of interests include identity development, ways to foster an authentic therapeutic relationship, mindfulness and meditation, nutrition, LGBTQ concerns, trauma, depression, and anxiety.
---
Mary Beth Kelley
Administrative Assistant
---
Carly Mihalic
Graduate Assistant
I graduated from the University of Mount Union in the spring of 2014 with degrees in both Psychology and Writing. I am now enrolled at John Carroll in the Clinical Mental Health Counseling program. I am thrilled to be continuing my education at the graduate level, especially since I will now be able to focus on the counseling profession specifically. I am also extremely excited to be working in the University Counseling Center as a graduate assistant. Having always been passionate about the mental health field, I am so grateful to be able to pursue my goals both academically and professionally.
---
Naomi Drakeford, M.A.
Doctoral Practicum Therapist
I have a B.A. in psychology from Ohio University and a M.A. in community counseling from the University of Akron. I am currently a doctoral student in the counseling psychology program at the University of Akron. I am excited to be returning to a university counseling setting! My previous experiences include working at community mental health and addiction agencies, a women's prison, and a university counseling center. I have found addressing the mental health concerns and well-being of students to be rewarding and fulfilling work. I feel privileged to be a part of students' personal and academic journeys.
Some of my clinical areas of interest include: anxiety, depression, trauma, relationship concerns, multicultural issues and oppression.
---
Danielle Broxon, M.A.
Doctoral Practicum Therapist
I graduated from the University of Evansville with a BS in psychology in 2012. I am currently a 4th year graduate student at Case Western Reserve University in the clinical psychology doctoral program. This is my second year as an intern in a college counseling center. Prior to beginning my work in college counseling I received training at the Cleveland Clinic and the Louis Stokes VA Medical Center in Cleveland. I've truly enjoyed having the opportunity to work with college students from a range of backgrounds, as they complete their education. My primary clinical interests are anxiety and depression, as well as stress management and acceptance and commitment approaches to therapy. Additionally, my independent research has focused largely on social connectedness, depression, and suicide in various populations.
I'm looking forward to working with students from JCU and helping them in any way I can. I've found our clients teach us just as much as we teach them, so I'm excited to see what I learn from all of you!
---
Jess Rudd, B.A.
Masters Practicum Therapist
I graduated from The George Washington University in Washington, D.C. with a BA in English and Human Services in 2009. After my undergraduate education, I returned to my home state of New Mexico to work as a grant writer on a Native American reservation promoting healthcare. Subsequently I journeyed to Nicaragua for two and a half years to work for the Peace Corps, where I focused my time on creating a national English curriculum for high schools as well as training Nicaraguan English teachers in dynamic teaching methods, collaborating with the U.S. embassy to run youth women's camps and working with community members to promote safe and engaging afterschool groups.
Upon my return to the United States, I decided to go back to school and pursue my passion for working with people. I moved to Cleveland, where I began my master's studies at John Carroll University in 2012 for Clinical Mental Health Counseling. While pursuing my education, I worked full time as a recruiting supervisor, and in June of 2015 I transitioned to working at The Emily Program, a residential facility focused on helping individuals living with eating disorders. In addition to eating disorders, my primary clinical experience is in anxiety and depression through the use of Cognitive Behavioral Therapy, while incorporating Dialectical Behavioral Therapy skills. I am currently a graduate intern at the JCU Counseling Center as well as the Center for Career Services, and I am very much looking forward to getting to know the John Carroll community better through my internship experiences!