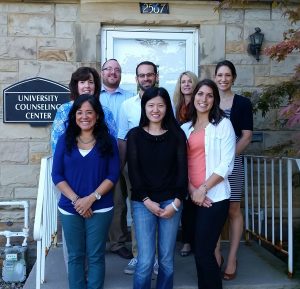 Mark Onusko, Psy.D.
Director & Staff Psychologist
I feel very fortunate to have the chance to work with students here at John Carroll University. I believe counseling can be a valuable, even life-changing experience for people, and I really enjoy helping students learn more about themselves through this process. The Counseling Center is a great resource on JCU's campus and I hope you will stop by some time to check us out.
I've been working at JCU's Counseling Center since 2013. I earned my BA in psychology at the University of Notre Dame, and my doctorate in clinical psychology at the Adler School of Professional Psychology in Chicago. I completed my post-doctoral fellowship at University of the Sciences, my doctoral internship at University of Pittsburgh, and part of my pre-doctoral training at Northwestern University. I also have experience working in a variety of other settings including high schools, community mental health centers, halfway houses and psychiatric hospitals.
Some of my clinical areas of interest include:
Anxiety and depression
LGBTQ+ concerns
Adjustment difficulties
Identity development
Sleep hygiene
Cognitive-behavioral & mindfulness approaches to  therapy
Additionally, some of my professional areas of interest include prevention, mental health administration, and the provision of supervision and training.
---
Alia Lawlor, M.Ed., LPCC-S, CCMC
Staff Counselor
After doing my internship in a college counseling center, I knew that working with college students would be my number one career goal as a mental health therapist. Students, regardless of age, are typically at a convergence of many personal and developmental challenges, and helping facilitate those changes is exciting and fulfilling. In addition to college counseling, I've worked in private practice doing individual and couples therapy, and corporate workforce development in a career consulting context. I also have a strong background in presentation development. Part of my job at the counseling center includes supervising and training our counseling interns.
Some of my clinical areas of interest include:
Anxiety and depression
Meditation and mindfulness
Women's issues
Athletes
Existential issues
Sexual and emotional abuse
LGBTQ+ issues
Schema therapy
Couples counseling
Supervision and development of counseling interns
Overall, I apply a "whole person" approach to mental health.
---
Sarah Amoroso, M.A., LPCC
Staff Counselor
I am grateful to be back at my Alma Mater! I have a passion for helping others and believe that counseling can have a profound effect on people.
I am a bilingual mental health therapist who grew up in Puerto Rico and moved to Ohio in 2001. As a graduate of JCU, I earned a Bachelor's degree in Sociology with a concentration in Criminology,  and then went on to complete a Master's degree in Community Mental Health Counseling. I have been fortunate to work in non-profit settings, community colleges and universities with a range of populations from children, teenagers, families, adults and college students. In addition, I am able to provide counseling sessions in Spanish when needed.
Some of my clinical areas of interest include:
Adjustment difficulties
Anxiety and depression
Relationship issues
Topics of health and well-being
Latinos/as and the use of mental health services
I am married with two boys and, in my spare time I enjoy going to their soccer games, going to the movies and making some good Puerto Rican food!
---
Carly Mihalic, B.A.
Masters Intern Therapist, Graduate Assistant
I graduated from the University of Mount Union in the spring of 2014 with degrees in both Psychology and Writing. I am now enrolled at John Carroll in the Clinical Mental Health Counseling program. I am thrilled to be continuing my education at the graduate level, especially since I will now be able to focus on the counseling profession specifically. I am also extremely excited to be working in the University Counseling Center as a Counselor Trainee and a graduate assistant. Having always been passionate about the mental health field, I am so grateful to be able to pursue my goals both academically and professionally.
Some of my clinical areas of interest include:
Grief counseling (individual / group)
Family issues
Sexual / relationship concerns
Mindfulness-based approaches to counseling
---
Jess Rudd, B.A.
Masters Intern Therapist
I am very excited to return to the JCU Counseling Center for my final year as a graduate intern!
In 2009, I graduated from The George Washington University in Washington, D.C. with a BA in English and Human Services. After my undergraduate education, I returned to my home state of New Mexico to work as a grant writer on a Native American reservation promoting healthcare. Subsequently I journeyed to Nicaragua for two and a half years to work for the Peace Corps, where I focused my time on creating a national English curriculum for high schools as well as training Nicaraguan English teachers in dynamic teaching methods, collaborating with the U.S. embassy to run youth women's camps and working with community members to promote safe and engaging after school groups.
Upon my return to the United States, I decided to go back to school and pursue my passion for working with people. I moved to Cleveland, where I began my master's studies at John Carroll University in 2012 for Clinical Mental Health Counseling. While pursuing my education, I worked full time as a recruiting supervisor, and in June of 2015 I transitioned to helping open The Emily Program, a new residential facility focused on helping individuals living with eating disorders. I am currently a graduate intern at the JCU Counseling Center as well as the Center for Career Services, and I am very much looking forward to continuing to build relationships in the John Carroll community through my internship experiences!
Some of my clinical areas of interest include:
Eating disorders
Adjustment or transition difficulties
Healthy living concerns
Anxiety and depression
Cognitive Behavioral and Dialectical Behavioral Therapy
Shu Ling, M.A.
Doctoral Practicum Therapist
I am a second-year doctoral student in counseling psychology at University of Akron. Prior to coming to Akron, I was a mental health counselor working for Otis R. Bowen Center in Indiana. There I worked with both individuals and family on a variety of issues. I also worked part-time in a local school system with children and adolescents, ranging from elementary to high school. I deeply believe in building strong relationships with my clients and I pledge that I will always offer them a safe and accepting place.
I spent the first 22 years of my life in China. In 2010, I moved to the States for graduate school and I have lived here since. I earned a MA in mental health counseling from Eastern Michigan University and a BA in English Literature from Anqing Teachers College, Anqing, China. I am passionate about working with people from different cultural backgrounds and I am looking forward to working with the students at JCU!
I live in Akron, close to the Fairlawn area. Most of my family (including my dog) live in China. In my spare time I enjoy hiking, science fiction, philosophy, cooking, and horseback-riding. Recently I am thinking of learning archery.
Some of my clinical areas of interest include:
Cultural transition
Minority distress
Trauma
Depression
Emotion regulation
---
Eric McCurdy, M.A.
Doctoral Practicum Therapist
I am a fifth year doctoral student in counseling psychology at the University of Akron. I moved from Boston to the Akron area four years ago. Since that time I've done counseling work at Baldwin Wallace University, the University of Akron, and a couple mental health and medical sites around northeast Ohio.
Some of my clinical areas of interest include:
Relationship concerns
Anxiety
Sexual abuse
Feminist theory
Existential concerns
Men and masculinity
Critical race feminism
Outside of my professional life, I really enjoy baking, hiking and traveling. I've been to 49 states and hiked in a number of national parks (Glacier is my favorite). If it's football season then I live for
Sunday
afternoons. I'm trying to be a Browns fan but it's really tough. Maybe this year though, right?
---
Mary Beth Kelley
Administrative Assistant
---