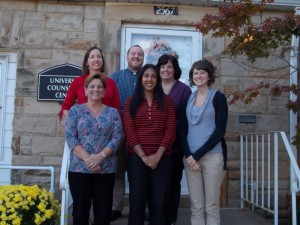 Mary Beth Javorek '92, Ph.D.
Director of the University Counseling Center
I've been working in college counseling since 1992 and feel very fortunate to have the chance to work with students here at my alma mater. I believe counseling can be a valuable, even life-changing experience for people, and I really enjoy helping students learn more about themselves through this process. The Counseling Center is a great resource on JCU's campus and I hope you will stop by some time to check us out.
My educational background includes a B.S. in psychology and masters in community counseling from John Carroll University and a Ph.D. in Counseling Psychology from Kent State University. I'm trained in interpersonal counseling, couples therapy, and career counseling and my special interests include working with students who are experiencing anxiety/stress, academic concerns, relationship difficulties, eating disorders, and/or body image concerns.
---
Mark Onusko, Psy.D.
Staff Psychologist & Training Coordinator
I've been working at JCU's Counseling Center since 2013. I earned my BA in psychology at the University of Notre Dame, and my doctorate in clinical psychology at the Adler School of Professional Psychology in Chicago. I'm passionate about working with undergraduate and graduate students and come with various experiences working within a university counseling setting. I completed my post-doctoral fellowship at University of the Sciences, my doctoral internship at University of Pittsburgh, and part of my pre-doctoral training at Northwestern University. I also have experience working in a variety of other settings including high schools, community mental health centers, halfway houses and psychiatric hospitals.
Some of my clinical areas of interest include anxiety, depression, LGBTQ concerns, identity development, sleep hygiene and cognitive-behavioral & mindfulness approaches to  therapy. Additionally, some of my professional areas of interest include prevention, mental health administration, and the provision of supervision and training. At JCU's Counseling Center, I coordinate our graduate training program and our services through The Relaxation Station.
_________________________________________________________________________________________________________________________________
JoAnna Cline, M.A., PCC-S
Staff Counselor
---
Mary Beth Kelley
Administrative Assistant
---
 Carly Mihalic
Graduate Assistant
---
 Megan Yetzer, M.A.
Advanced Practicum Therapist