All staff and faculty are encouraged to refer to JCU's "Responding to Students in Distress" handbook
Reason for Consultation/Referrals
The following signs may indicate a need to refer a student to the Counseling Center:
Abrupt/radical changes in behavior
Isolation from others
Poor attendance in class
Sudden outbursts of anger
Attention/memory difficulties
Alcohol/drug abuse
Inappropriate crying
Chronic fatigue/low energy
Irritability
Restlessness
A student may also be referred to the Counseling Center for information on various topics such as the following:
Time management
Life planning
Assertiveness training
Self esteem building
Stress management
Relationship enhancement
Anger management
Study skills
Communication skills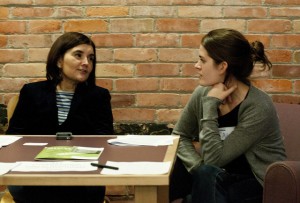 Guidelines for Consultations/Referrals
You may want to call for a consultation to discuss your concerns about a student. One of our staff will help you clarify what may be the most helpful approach for that individual. Call us and ask to speak to a counselor regarding a possible referral.
Talk to the student directly and express your concern. Give the student the Counseling Center phone number and location and encourage her/him to call. Appointments for an initial interview can be made through the secretary at extension 4283. It can be scheduled any time between 9 a.m. and 5 p.m. during the work week. This first appointment usually lasts about 50 minutes and is facilitated by a member of the staff who then assigns the student to a counselor. The student's preference for a specific counselor, if they have one, will be duly considered depending on the student's need for assistance and the counselor's schedule.
Assessment of the Student
In the initial interview the clinician assesses the student's needs and what services may be appropriate. The following options may be considered:

Further assessment using psychological testing
Individual, couples, family, or group sessions
Referral to other departments or services on campus and/or in the community
Follow-up Procedure
We understand that you may be interested in the progress of the student you have referred. However, we are bound by the principles of confidentiality as defined by the Ethical Principles of Psychologists and Code of Conduct (American Psychological Association), the Code of Ethics and Standards of Practice (American Counseling Association), and relevant laws.
The following examples clarify this principle:
We can:
Answer your questions concerning steps to take in assisting students in coming to the Counseling Center
Offer you information about psychological concerns and problems in general
We cannot:
Say whether a student is being seen here or has kept an appointment
Discuss the content of sessions
Discuss the treatment plan or progress
In some cases the student may find it in his/her best interest for information to be shared with a faculty, staff, family member, or significant other. This is done by the student's own written authorization with clear explanation of the purpose and content of any disclosure. The only exception would be a clinician's determination of imminent danger to the student or to others.