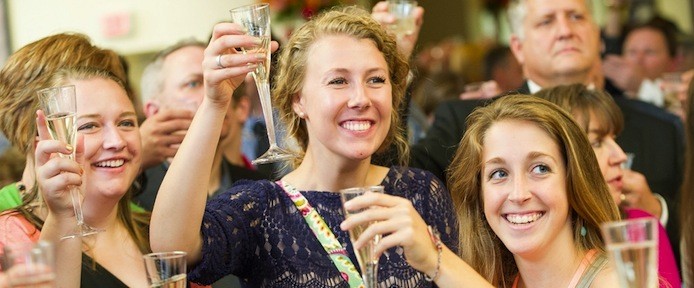 Class of 2018 Reception
The Class of 2018 Reception is a wonderful tradition at John Carroll University!  It is open to all graduating seniors, graduate students, and their friends and family.  The reception will be held Saturday, May 19, 2018, from 5:30 – 7:30 pm, in the Schott Student Dining Hall.
Senior Class Toast! — 5:30 pm
Every senior is invited to toast their graduation at the Senior Class Toast immediately following Baccalaureate Mass. Join your classmates, family, and friends in celebrating your time at John Carroll as you are welcomed into the JCU Alumni family.
Every senior who has made a donation to the Senior Class Gift will also receive a commemorative Senior cup sponsored by the Senior Class Gift Committee and the Development Office. To give to the Senior Class Gift, please visit go.jcu.edu/scg18 or contact Sloan Cargill of the Development Office at scargill@jcu.edu or extension 4969.

If you would like to attend the Class of 2018 Reception, please fill out the form below.