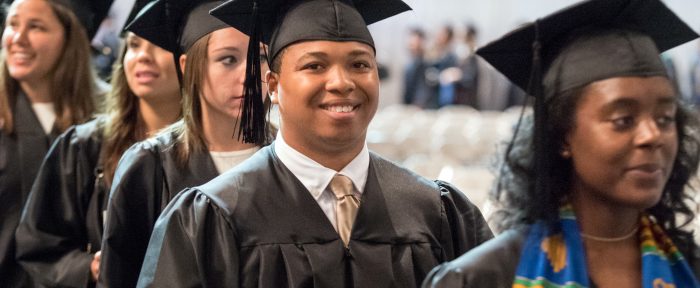 Commencement 2019 Rain Plan
Commencement is a wonderful celebration and culmination of students' time at John Carroll. The administration understands how important it is for students to end their time at John Carroll by graduating on the campus that has played a pivotal role in their lives. Please know that the ceremonies will only move indoors if dangerous inclement weather is predicted.
In the event of severe weather, the Graduate ceremony will move to Kulas Auditorium. The Undergraduate ceremony will move to the DeCarlo Varsity Center. The Commencement exercises for graduates from the College of Arts and Sciences will take place at 11 a.m., and the exercises for the Boler College of Business will take place at 2 p.m. An announcement regarding the Undergraduate ceremony location will be made by 12 p.m. on Friday, May 17.  
If the ceremonies are held indoors, undergraduates will be limited to 3 tickets for guests. The ceremony will then be streamed in venues across campus for other guests to view. Tickets will only be required if the Undergraduate Commencement ceremony must move indoors.  Seating will not be limited on the Hamlin Quadrangle. More information how to reserve and pick-up tickets will be available in April.
Saturday, May 18, 2019
10 a.m.            ROTC Commissioning Ceremony – Muldoon Atrium
12 p.m.            Graduate students arrive on campus for seating card distribution and line-up – O'Malley Center and Administration Building Ground Floor
12:45 p.m.       Line-of-march begins
1 p.m.              Graduate Commencement Ceremony – Kulas Auditorium
2:30 p.m.         Graduate student reception, photos, diploma pick-up, etc. – O'Malley Center, Main Quad, and Keller Commons Tent
4:30 p.m.         Baccalaureate Mass – DeCarlo Varsity Center
5:30 p.m.         Class of 2019 Reception – Schott Dining Hall
Sunday, May 19, 2019
9:15 a.m.        College of Arts & Sciences students arrive on campus for light breakfast, seating card distribution, and line-up – Intramural Gymnasium
10:40 a.m.      Line-of-march begins
11 a.m.           College of Arts & Sciences Commencement Ceremony – DeCarlo Varsity Center with streaming in Donahue Auditorium, Kulas Auditorium, and LSC Conference Room
12:30 p.m.      College of Arts & Sciences reception and diploma pick-up – Intramural Gymnasium
12:30 p.m.      Boler College of Business students arrive on campus for seating card distribution, and line-up – Intramural Gymnasium
1:40 p.m.        Line-of-march begins
2 p.m.             Boler College of Business Commencement Ceremony – DeCarlo Varsitiy Gymnasium with streaming in Donahue Auditorium, Kulas Auditorium, and LSC Conference Room
3:30 p.m.        Boler College of Business reception and diploma pick-up – Intramural Gymnasium