Deborah (Deb) Delisle, former superintendent of the Cleveland Heights-University Heights City School District, who now serves as the nation's assistant secretary for elementary and secondary education, is John Carroll University's 2014 commencement speaker. The ceremony will take place on Sunday, May 18, at 11 a.m.
Delisle's career in education spans 39 years, serving as a teacher, gifted education specialist, curriculum director, elementary school principal, district associate superintendent and superintendent. As assistant secretary of elementary and secondary education, Delisle directs, coordinates, and recommends policy for programs designed to assist state and local education agencies with improving the achievement of elementary and secondary school students. She also serves as the principal adviser to the U.S. Secretary of Education on all matters related to pre-K, elementary, and secondary education.
Delisle served as Ohio's 35th state superintendent of public instruction from 2008 to 2011. She was superintendent of the Cleveland Heights-University Heights City School District from 2003 to 2008, and in 2011, the district honored Delisle by dedicating a school as the Deborah S. Delisle Education Options Center to recognize her lifetime of service to students.
Throughout her career, Delisle has been actively engaged in the work of a number of organizations, including the International Center for Leadership in Education, the National Association for Gifted Children, the Greater Cleveland School Superintendents' Association and the Greater Cleveland Educational Development Center.
---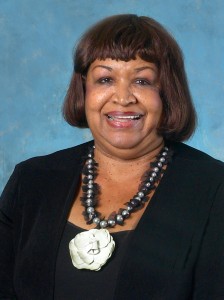 Evelyn Jenkins Gunn received her M.A. from John Carroll in 1972. She is one of fewer than 350 teachers nationwide to receive certification from the National Board for Professional Teaching Standards in Early Adolescence/English Language Arts. She has taught English and journalism for more than 40 years.
Gunn is a Carnegie Scholar and Fellow and serves on the Committee on Teacher Education of the National Academy of Education. She is a trustee of Stillman College. She is one of the authors of Preparing Teachers for a Changing World: What Teachers Should Learn and Be Able To Do (sponsored by the National Academy of Education, 2005).
She received the JCU Alumni Medal in 2000.