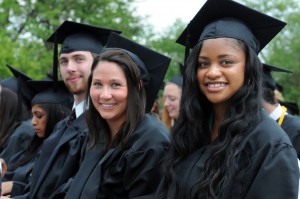 Does JCU have graduation announcements?
Yes. Students and parents can order announcements through Jostens. Students can also watch for Jostens representatives who will be on campus throughout the spring semester to answer questions concerning announcements and rings.
How long will the ceremony last?
Though the time varies depending on the length of speeches, it is safe to anticipate two to two-and-a-half hours. In addition to May 2019 graduates, students participating in the May ceremony are students who completed their degree requirements in January 2019 and will complete their degrees in August 2019.
Do I need to stay for the whole ceremony?
Yes, all graduates are expected to stay for the entire Commencement Ceremony.
How will I know where to sit?
Graduates will pick up a SEATING ASSIGNMENT CARD between 9 and 9:30 a.m. in the Varsity Gym the day of the ceremony. At 9:30 a.m. the day of the ceremony, all graduates will attend a mandatory rehearsal in the varsity gym.
Seating for guests on the Quadrangle is open for family and friends.
What is the route of the procession?
Students leave the Varsity Gym and file through the Atrium and down the ramp of the Lombardo Student Center. The procession then follows the sidewalk in front of Pacelli Hall, then in front of Bernet Hall. Once opposite Rodman Hall, the procession marches across the Quad toward Rodman Hall.
I want to make dinner reservations or plan a party. Where can I find restaurant information?
A good resource for planning a party following commencement is www.cleveland.com/dining.
What if I did not attend the Grad Fair and need a cap and gown?
Students who did not pick up a cap and gown at Grad Fair, can do so the morning of Commencement.  Extra tassels will also be available at that time.
I want to take pictures and/or videotape the ceremony. What is permissible?
It will not be possible to permit picture-taking or videotaping of graduates in the area of the stage. Grad Images has been engaged to photograph each graduate as the diploma is presented. Information regarding the purchase of photographs will be forwarded to all students and their families following commencement. If you have any questions, you can reach Grad Images customer service at 800.424.3686, or check out the web site at http://www.gradimages.com/.
What if I cannot attend the ceremony?
If you cannot attend the ceremony, you must notify the Commencement Coordinator as soon as possible.
What is the dress code for graduation?
Most female students wear a light-weight dress or skirt and top. Most male students usually wear cotton trousers, shirt and tie.
What can keep me from graduating?
There are a few things that can keep any student from receiving a diploma, participating in the ceremony, and receiving a transcript. Ineligibility includes the following: failure to complete all academic requirements as specified by the student's respective dean's office; failure to pay any balance that is owed to JCU; finally, any fines and/or overdue books not returned to the library by May 4, 2018.
How many people can I invite to the ceremony?
You can invite as many people as you want to the ceremony. There will be plenty of seating for them on campus and the off-campus (rain) location. Seating is available on a first come, first served basis.
How early should we get to the ceremony?
Seating for family and friends is open on both the Quadrangle, and, in the event of rain, in the Wolstein Center, on a first come, first served basis. Students should be on campus between 8:00 and 9:00 a.m. to pick up their seating assignment cards.
Where should we park?
Almost all parking on campus is open the day of the ceremony. Also, University Heights allows parking the day of the ceremony in 1-2 hour parking zones without penalty. No parking is allowed in fire zones. No parking is allowed at Gesu Church as they will be following their regular Sunday Mass schedule. Please check with JCU Police at 216.397.1234 if you have any specific parking questions.
What about handicapped parking and access?
Handicapped parking spaces are located at various locations around campus. In addition, the Rodman Hall drive and the Boler School of Business lot will be reserved for handicapped parking. Proper identification must be displayed. The Rodman Hall drive can also be used as a drop-off for family and friends if necessary. Please call JCU Police at 216.397.1234 if you have any specific handicapped parking questions.
The areas of the Quadrangle with the easiest access for handicapped guests are the outside of the rows of seats. Some of these areas will have a hard covering on the ground which will help provide easier access to the Quad. The center aisle needs to be clear for the procession. Remember that the Quad may be a bit soggy and difficult to navigate for some. If you have questions concerning a handicapped family member and/or access questions, please e-mail Garry Homany.
Will there be sign language interpreters?
If your guests require sign language interpreters for the Commencement Ceremony and/or Baccalaureate Mass, please contact the Commencement Coordinator at commencement@jcu.edu.