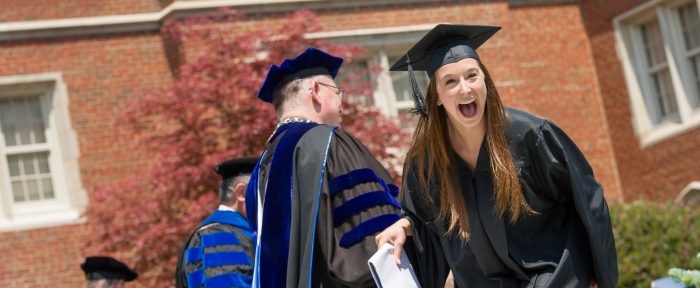 Why is the ceremony moving?
The Hamlin Quadrangle was designed to allow for better water drainage. That way, if it does rain in the days before the ceremony, the ceremony can still be held outside.
Regarding the rain plan, alumni have expressed disappointment when the ceremony moved to the Wolstein Center. Commencement is a wonderful celebration and culmination of students' time at John Carroll. The administration understands how important it is for students to end their time at John Carroll by graduating on the campus that has played a pivotal role in their lives.
When will we know if the ceremony will be inside or outside?
An announcement to the campus community, graduates, parents, faculty, and staff will go out on Friday, May 17, 2019 after administrators evaluate the weekend forecast.
How many people can I invite to the ceremony?
If the undergraduate ceremony is outside on the Hamlin Quadrangle, graduates may invite as many guests as they want. There will be plenty of seating available on a first come, first serve basis. If there undergraduate ceremony is moved inside, students will be limited to 3 tickets for guests.
Graduate students will also be limited to 3 tickets for guests. However, all ceremonies will be streamed in Donahue Auditorium and other locations around campus.
How can I reserve tickets for the indoor ceremonies?
More details on how to reserve indoor tickets will be announced in the Spring.
What can keep me from graduating?
There are a few things that can keep any student from receiving a diploma, participating in the ceremony, and receiving a transcript.
Ineligibility includes the following: failure to complete all academic requirements as specified by the student's respective dean's office; failure to pay any balance that is owed to JCU; finally, any fines and/or overdue books not returned to the library by May 3, 2019.
How do I get my cap and gown?
All undergraduate and graduate students participating in Commencement must order regalia through Jostens by February 19, 2019. There is no additional charge for ordering regalia as it is covered by the graduation fee. Graduates may place their order here.
What if I did not order my cap and gown by February 19?
Contact kmalone@jcu.edu as soon as possible.
Does JCU have graduation announcements?
Students and parents can order announcements through Jostens. Students can also watch for Jostens representatives who will be on campus throughout the spring semester to answer questions concerning announcements and rings.
What is the dress code for graduation?
Most female students wear a light-weight dress or skirt/pants and top. Most male students usually wear cotton trousers, shirt and tie.
What time do I need to be on campus and where should I go?
Graduate students should report to the O'Malley Center no later than 12 p.m on Saturday, May 18. Undergraduate students should report to Kulas Auditorium no later than 9:15 a.m. on Sunday, May 19.
What time should my guests arrive on campus?
Seating for guests on Hamlin Quadrangle and in the DeCarlo Varsity Gymnasium will be on a first come, first serve basis. Some guests arrive as early as two hours before the ceremony. However, many arrive approximately 30 minutes before the ceremony too.  
Where should we park?
Except for handicap and specially reserved spaces, parking on campus will be open. Guests can also park on the streets surround campus. University Heights will not ticket the limited parking zones around campus. As always, no parking is permitted in fire lanes. John Carroll guests may not park at Gesu as the parish will be holding their regular Sunday masses.
What about handicapped parking and access?
Handicapped parking will be available in the lot between Graselli Library and the Dolan Science Center and in the Boler College of Business Lot. Proper identification must be displayed. Admin Drive can also be used as a drop-off if necessary. Please call JCU Police at (216) 397-1234 if you have any specific handicapped parking questions.
The areas of the Quadrangle with the easiest access for handicapped guests will be the outside of the rows of seats. Some of these areas will have a hard covering on the ground which will help provide easier access to the Quad. The center aisle needs to be clear for the procession. If you have questions concerning a handicapped family member and/or access questions, please contact Garry Homany at ghomany@jcu.edu.
Will there be sign language interpreters?
If your guests require sign language interpreters for the Commencement Ceremony and/or Baccalaureate Mass, please contact the Commencement Coordinator at kmalone@jcu.edu.
How will I know where to sit?
When graduates arrive on campus, they will pick up a seating card assignment then be staged in their rows for the ceremony. Graduates must retain that seating card and sit in their assigned seat.
How long will the ceremony last?
Though the time varies depending on the length of speeches, it is safe to anticipate two hours for the undergraduate ceremony and 90 minutes for the graduate ceremony. Graduates and guests should plan accordingly.
Will I get my diploma during the ceremony?
No, during the ceremony graduates will receive their diploma case.  May graduates can then pick-up diplomas in the designated location after the ceremony. August graduates will receive their diploma in the mail after August 31. January graduates will also receive a diploma case during the ceremony but should return that case to the diploma pick-up area after the ceremony.
Do I need to stay for the whole ceremony?
Yes, all graduates are expected to stay for the entire Commencement Ceremony. Diplomas will not be available until after the ceremony is concluded.
Will there be food available during the ceremony?
Einstein's Bagels will be open in the Ground Floor of the Administration Building during the ceremony.
Can guests take pictures and/or video of the ceremony?
Guests will not be able to take pictures or videos in the area nearest the stage. Grad Images will take professional photos of graduates as each is presented with their diploma. Information on how to access and purchase those photos will be forwarded to all students and their families after commencement. If you have any questions,please contact Grad Images customer service at (800) 424-3686 or through their website http://www.gradimages.com/.
I want to make dinner reservations or plan a party. Where can I find restaurant information?
A good resource for planning a party following commencement is www.cleveland.com/dining.
What if I cannot attend the ceremony?
If you cannot attend the ceremony, notify the Commencement Coordinator at kmalone@jcu.edu as soon as possible.