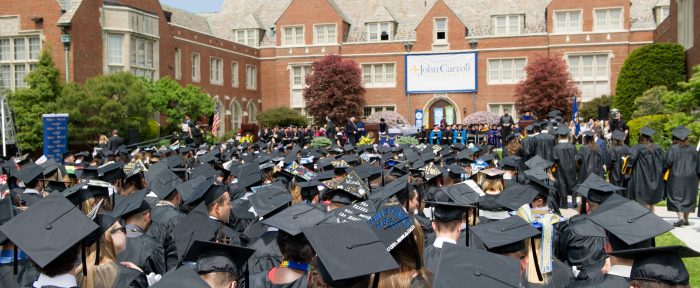 If you ordered a cap and gown but have not picked it up yet, please contact Kate Malone or stop by Rodman 328 Monday through Friday between 8 a.m.-12 p.m. and 1-4:30 p.m.
If you did not order a cap and gown, contact kmalone@jcu.edu as soon as possible.
Graduate students will receive hoods with their caps and gowns. Check to make sure you have the correct hood for your degree. All hoods should have a blue and gold silk lining (the colors of JCU); the color of the velvet collar is dependent upon the degree you are to receive as listed below.
Master of Arts — white
Master of Business Administration — drab
Master of Education — light blue
Master of Science — golden yellow
Educational Specialist — light blue