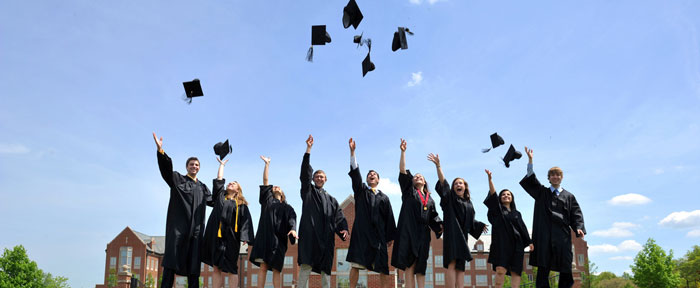 The Commencement ceremony on Sunday, May 18, 2014, will be held on the Quad on John Carroll's campus at 11 a.m.
Please keep in mind the possibility of changing weather conditions and dress appropriately. The forecast calls for cooler temperatures, therefore we encourage you to dress in layers, avoid attire that might be ruined in the mud and wet grass, and bring blankets for guests. Please be aware that portions of the Quad may be soft, so we encourage you to wear appropriate footwear. In case of thunder or lightning during the ceremony, events will be immediately cancelled and diplomas will be distributed in the Varsity Gym.
Immediately following the Commencement ceremony, you are cordially invited to attend one of the receptions honoring our graduates.
We would also like to remind you of three events taking place today. The Senior Awards Ceremony, which will honor the recipients of achievement awards in the College of Arts and Sciences and the Boler School of Business, will take place at 2:30 p.m. in Kulas Auditorium. Students were notified by their major department in March or April if they are receiving an award. After the award ceremony, the Baccalaureate Mass will be celebrated at 4:30 p.m. in the DeCarlo Varsity Gym for all seniors, parents, and guests. Immediately following the Mass, all are invited to a reception and Senior Toast in the Schott Dining Hall. You are warmly invited to participate in all of these events.
We hope you enjoy this wonderful occasion! Congratulations to the Class of 2014!