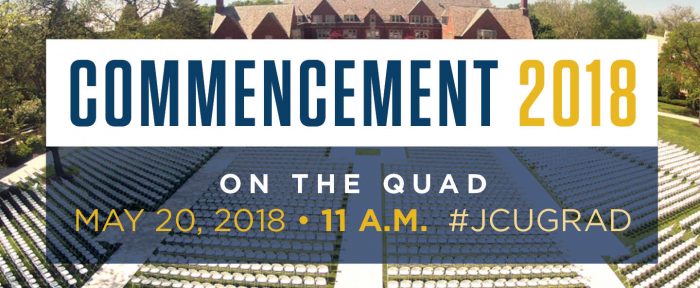 COMMENCEMENT CEREMONY
Sunday, May 20, 2018
11:00 a.m.
Main Quad
Watch the ceremony live on the JCU homepage on Sunday morning. Log on to jcu.edu and click on the Commencement 2018 image.
All graduates must pick up or swap out a graduation gown in Rodman Hall Room 341 before Commencement Weekend.
All graduates must be on campus by 8:30 a.m. on May 20.  Report to the IM Gym to pick up your seating card.
Graduates who have not picked up their cap and gown or need a new cap or tassel can do so that morning.
The Commencement Ceremony will begin at 11a.m. and should conclude between 1 and 1:30p.m.
No tickets are required for Commencement. Seating is on a first come, first serve basis. Families and guests usually arrive around 9:30 and should be in their seats by 10:30 for the procession to begin.
The rain plan decision will be announced by 11a.m. on Friday, May 18. After the decision is made, emails will be sent to all graduates and a message will be posted on the JCU website. The rain location is the Wolstein Center at Cleveland State University.  If the ceremony is moved downtown, the same time schedule applies. The rain plan call is made based on the forecast for the weekend as well as the condition of the Quad.
Parking on and near campus will be difficult.  Please carpool.  Parking on campus will be open, except for handicapped parking areas (part of the Belvoir Lot, entire Boler Lot, and Rodman Lot) and VIP parking (behind Rodman and Sutowski).  Parking on the city streets around campus is permitted on May 20.  Do not park at Gesu Church.
All graduates must wear caps and gowns.  Only the following additional items are permissible to wear during the ceremony: masters hoods, Honors Scholar cords, Arrupe Scholar cords, Leadership Scholar cords, the Alpha Sigma Nu medal, and any honor society/group that has already petitioned to wear an item at commencement.
If you are graduating with academic honors (cum laude, magna cum laude, summa cum laude), these honors are on your diploma, under your name in the program, and read with your name by the dean at the ceremony.
A photographer will be at the ceremony taking pictures of you as you receive your diploma.  You will receive an email at your JCU email address within two weeks of the ceremony to view the proofs and order photos.
The Commencement ceremony will be live streamed.  Family and friends who are unable to attend can watch it on the JCU website.  The link will be live on the JCU homepage right before the ceremony begins.