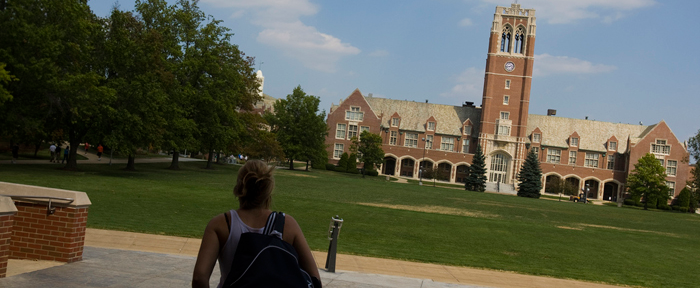 "John Carroll isn't just a school in Cleveland, it's a connection everywhere. But it's a very strong connection here in Chicago." – Bridget Fitzgerald '10
At John Carroll, you will receive a high-quality education that will prepare you for life. We do this through a focus on practical liberal arts, ethics, and spiritual strength in an environment that cares for you as an individual, following the Jesuit philosophy of cura personalis. With no more than 25 students in most classrooms and an emphasis on putting lessons to work in the local community, John Carroll is an interactive experience. Each semester you'll find that classes are not just about what is covered by the professor, but more so what is uncovered by your own inquiry, experience, and voice.
Students are encouraged to become part of a larger community – beyond themselves, beyond their friends, and beyond the campus. Our Jesuit tradition of educating the whole person – mind, body, and spirit – provides great preparation for the world and life after college.
"You become an individual versus a number where that the teachers know you by name and the class size is more manageable than at a larger university." – Peter Anthony '88
Nearly 70 distinct majors and a wide array of other academic concentrations.
Our honors program offers a lively intellectual and cultural community for exceptional students.
Students are taught in small classes (14:1 student-to-faculty ratio) by professors who are experts in their fields.
As an undergraduate-focused University, students work with equipment, are published, and gain invaluable experiences that many students at other institutions don't get until graduate school.
Our core curriculum is informed by the wisdom of 450 years of Jesuit education, interpreted by the faculty to maintain relevancy, and individualized to each student.