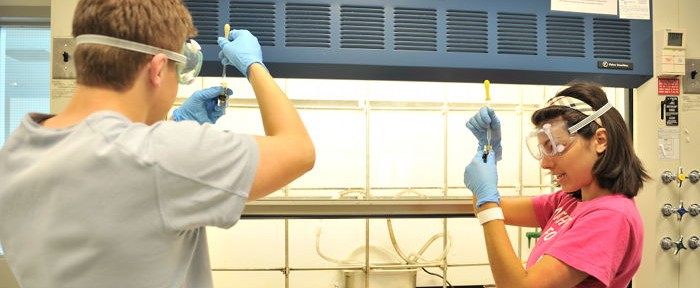 Undergraduate research is a useful way to develop the skills you will need in your career field, even if you are not planning to be a researcher. Not surprisingly, those who participate in research mature their skills at a faster rate than those who do not participate. This provides you with a distinct advantage for entering the workforce or acceptance for additional schooling.
Statistics from the class of 2017:
78% of the students had a research experience in their Junior year
78% had a research experience in their Senior year
65% had a research experience in both Junior and Senior years
The places our students researched varied:

industry
JCU/other universities
Cleveland Clinic Foundation/Metrohealth
others had internships outside of chemistry in business and law
Employers and graduate/professional school committees look favorably upon undergraduate research. Research students also present their results, and will often be co-authors in scholarly publications.
Student Scholarship (presentations and publications)
See What Our Faculty Are Researching (coming soon)
Updated: 8-2-17