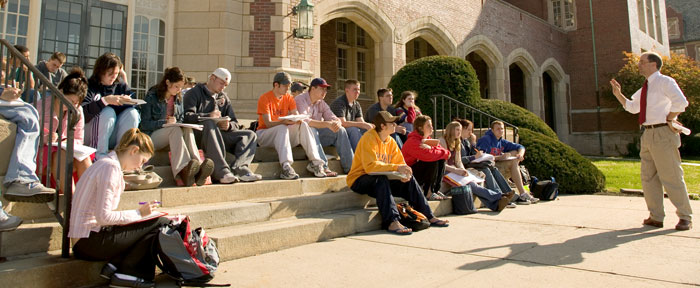 Learning in the College of Arts & Sciences is about much more than simply training for a job. Rooted in our Jesuit Catholic heritage, it's an individualized experience that educates the whole person – mind, body, and spirit. We'll prepare you to serve others and lead in your career, your community, and the world.
---
Build a Foundation
Through our Core Curriculum, you'll receive an important grounding in critical thinking, compelling expression, global understanding, and how knowledge connects across fields. You'll build upon that solid foundation as you pursue your major and, optionally, your minor.
Focus on Your Future
The College of Arts & Sciences offers more than 80 undergraduate majors, minors, and concentrations to help you prepare for your career—and a meaningful life. In these programs, you'll learn directly from expert faculty who will teach, mentor, and challenge you. You'll also have the opportunity to work alongside your professors, fellow students, and industry leaders in research opportunities and internships. These experiences will help set you apart, whether you're pursuing a career, applying to graduate school, or embarking on a service experience.
Take the Next Step
Explore our Programs of Study or visit the Admissions website to learn more about JCU—and our focus on graduating students of intellect and character in the Jesuit tradition of educational excellence.