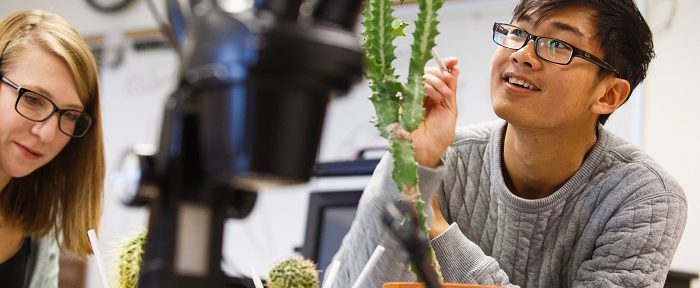 Building an Innovation Pipeline:
Choose Ohio First Scholars at John Carroll University
---
John Carroll Univ

ersity students pursuing science and technology majors are eligible to apply for Choose Ohio First Scholarships. These scholarships, funded through a grant from the Ohio Department of Higher Education and John Carroll University, will help support, educate, and graduate academically-driven STEMM* students for emerging regional markets in healthcare, biotechnology, and other science-based industries. The Building an Innovation Pipeline Program reflects JCU's commitment to inclusion, social justice, and leadership in our region and around the world by providing all students the opportunity to be successful in high-demand STEMM* disciplines.
*STEMM = Science, Technology, Engineering, Mathematics, and Medicine
---
ELIGIBILITY   |   APPLICATION  |   TERMS & CONDITIONS   |   BECOME A PEER MENTOR
Priority application deadline is December 1, 2019
Applications will be considered through March 1, 2020
---
---
THE BUILDING AN INNOVATION PIPELINE PROGRAM
Our program complements existing institutional efforts promoting student success and reflects JCU's commitment to the Jesuit ideals of social justice, knowledge in action, and cura personalis, care for the whole person.  We connect our students to local STEMM employers, including research institutes and universities, industrial world headquarters, museums, and arboreta.
Program Elements:
A series of 0 credit cohort advising courses for all Choose Ohio First students that will support them throughout their time at JCU, aiding in college transition, major declaration, career development, and degree completion;
A 1 credit "Entering Research" course to help Choose Ohio First scholars prepare for and participate in research experiences at JCU and beyond;
Increased promotion of and access to campus academic and support services;
STEMM-specific activities integrated into JCU's student orientation and move-in week;
Leadership training to help students develop the skills necessary for STEMM innovation.
---
 Biology  |  Chemistry  |  Computer Science  |  Exercise Science
Healthcare IT  |  Math  |  Neuroscience  |  Physics  |  Health Professions  
---
For more information, please email us at chooseohiofirst@jcu.edu.
Program Director:
Dr. Rebecca Drenovsky
Office of Graduate Studies
College of Arts & Sciences
John Carroll University
1 John Carroll Blvd
University Heights, OH  44118
Phone:  216.397.4451