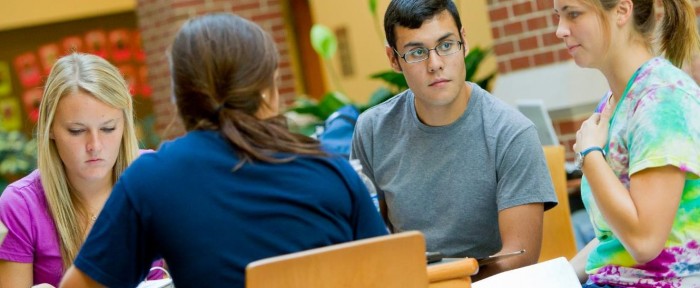 For the most up-to-date news about the Integrative Core, please visit sites.jcu.edu/core.
---
John Carroll's Integrative Core Curriculum provides the foundation and the structure upon which all students build the major focus of their university studies.  The courses that make up the Core Curriculum are informed by nine academic learning goals, which are rooted in the fundamental Jesuit heritage of the University and the particular history of John Carroll.  These learning goals are value statements about what the University deems essential for each student's educational experience.  They highlight key aspirations the JCU faculty and administration have for our students.
We expect graduates of John Carroll University will be able to:
Demonstrate an integrative knowledge of human and natural worlds;
Develop habits of critical analysis and aesthetic appreciation;
Apply creative and innovative thinking;
Communicate skillfully in multiple forms of expression;
Act competently in a global and diverse world;
Understand and promote social justice;
Apply a framework for examining ethical dilemmas;
Employ leadership and collaborative skills;
Understand the religious dimensions of human experience.
The Core Curriculum intentionally ensures that these nine academic learning goals are met—not superficially, but in multiple places and times throughout the student's undergraduate years so that the skills, knowledge, competencies, and values they seek to instill are re-iterated, deepened, and actualized.
See how the University Core Curriculum supports these key aspirations.
The principles underlying the Core Curriculum are the following:
In sum, the Core Curriculum asks students to be engaged learners who bring new knowledge into being through their study and collaboration and who do so with the realization that all knowledge has the capacity to raise ethical questions, and that the questions they raise and answer are meaningful and liberating.