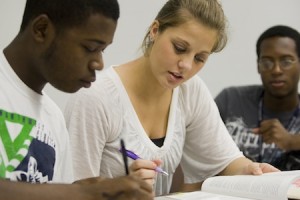 A Foundation for Your Future
At the heart of a John Carroll education is the University's Core Curriculum, rooted in the wisdom of our 450-year-old Jesuit heritage and responsive to the needs of our global society. This series of courses provides a solid foundation for your studies at John Carroll and for your life after college—no matter the major you select, the career you pursue, and the difference you choose to make in society.
Discover New Interests—and Yourself
The Core Curriculum is about opportunity and options, with more than 250 courses to choose from. The Core will help you gain a broad base of knowledge about many different subjects, discover new interests, and learn more about yourself, your values, and your aspirations. You'll also learn to develop superior communication skills and hone your abilities to creatively and confidently solve problems.
A Pathway to Learning and Success
You'll take a First-year Seminar focused on academic inquiry and research as well as courses in mathematics and science to hone your analytical skills. The Core also will introduce you to important concepts in history, literature, philosophy, and religious traditions. Courses focusing on international cultures, languages, and diverse populations will help you understand, appreciate, and engage in global issues. Together, the Core Curriculum courses prepare you to become an informed, inquisitive, and insightful individual ready for the promise of your future.
Take the Next Step
Learn more about the academic experience at John Carroll or review the Undergraduate Bulletin for more information about the Core Curriculum.
Core Curriculum Resources