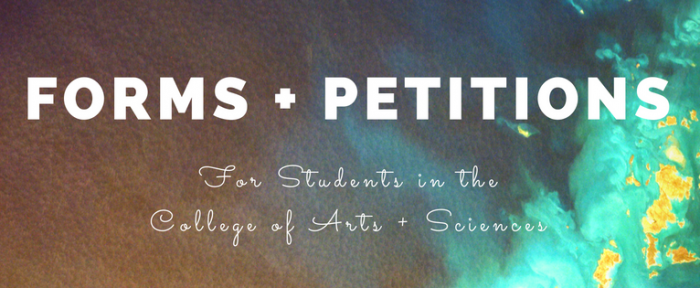 See the Office of the Registrar's Services and Forms page for:
Application for Declaration of Major

Application for Declaration of Minor

Request to Remove Major, Minor, or Concentration

Transcripts

Verifications

Change of Address/Name Form

Cross Registration

Pass/Fail Option

Course Audit

Complete Withdrawal and Leave of Absence

Proxy Access

Graduation Major/Minor/Concentration Audit Form

Update Academic Interests (for students who have not declared a major)

Update Expected Graduation Date
---
Academic Petition Form
The Academic Petition form is accessed through BannerWeb: Enter Secure Area, then go to the Academic tab / Registration and Academic Services page. 
Students should use this form to request:
substitution of courses
special requests about the core curriculum
course overloads (registering for more than 18 credit hours in a semester)
transient petitions 
repeat a course (students may repeat only once a course in which they receive a C- or lower. The higher grade received will be counted in their cumulative GPA; the other grade will remain on the transcript but will not count toward the cumulative GPA, nor will it count for credit toward graduation. Repeated courses must be taken at John Carroll).
---
Contact Information – Student Resources

---
How to Review You Degree Evaluation / Undergraduate Graduation Checklist (Registrar)
---
---
---
Student Request for Advisor Change
---