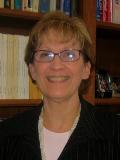 Assistant Dean for Freshmen
Email: ehocevar@jcu.edu
Phone: 216.397.1521
Elaine Hocevar is an assistant dean in the College of Arts and Sciences. Elaine earned her B.A. in sociology and M.A. in humanities at John Carroll University and an M.A. in sociology at Kent State University. Her areas of research interest include identity construction and salience, student retention, and wrap-around delivery of services to students. She has a Ph.D. in business administration. Her dissertation research focuses on student service delivery and its impact on student retention in higher education.
Her published research includes a 2007 Anthem Press chapter, "Theoretical Claims and Ethnic Identity Formation-Interpretations from a Slovenian American Community," and a 2007 publication, The Information Service Sector—Solution to Global Social Justice or Stimulus for Global Terrorism. Across the past five years, Elaine has had presentations for John Carroll University's Celebration of Scholarship.
She also has an alumni presidential address to the John Carroll University chapter of Alpha Sigma Nu titled The Service Component of the Jesuit Ideals. She is currently the president of the Cleveland Alumni Chapter of Alpha Sigma Nu and chapter coordinator for Alpha Sigma Nu's John Carroll University Chapter.
Her professional affiliations include membership in Alpha Kappa Delta, Alpha Sigma Nu, American Sociological Association, and the American Education Research Association.