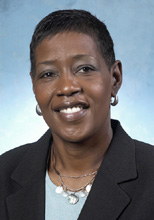 Assistant Dean for Sophomores
Email: dtcampbell@jcu.edu
Phone: 216.397.1558
Diane Campbell earned both her Bachelor of Science degree and master of education degree in education from Armstrong Atlantic State University and her Master of Science degree in community counseling from North Georgia College & State University. She earned her Ph.D. in Leadership for Higher Education from Capella University. Her dissertation research focuses on factors that predict the persistence of students of color in higher education.
Diane joined the John Carroll community in 2003 when she was hired as the associate director of multicultural affairs. She served in that position for 3.5 years before taking the position of assistant dean in the College of Arts & Sciences. While at John Carroll, Diane has served on the University Planning Committee, Committee on University Enrollment, University Council, and currently the Housing Appeals Committee, as well as various ad hoc committees over the years.
With 16 years of experience in higher education Diane has served as the coordinator of multicultural services and assistant director of financial aid at North Georgia College & State University and financial aid counselor at Armstrong Atlantic State University.
Diane's professional affiliations include the National Association for Women, American Association of University Woman (AAUW), American Council of Education (ACE), and the Association for the Study of Higher Education (ASHE).