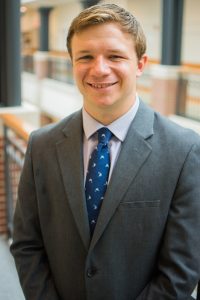 Recent John Carroll University graduate, Nathaniel Heiden, is the recipient of a Fulbright Fellowship Study/Research award. The biology major will spend nine months working in Jaca, Spain, at the Instituto Pírenaico de Ecología, where his research will center on assessing plant responses to gypsum levels in soil. Gypsum soils are found globally in arid and semi-arid regions; his research will have important conservation and agricultural implications. As a Fulbright Scholar, Heiden will be part of an international consortium called GYPNET, comprised of 60 scientists from 18 different institutions representing the United States, Mexico, Argentina, Chile, Australia, Iran, Turkey, Cyprus, Italy, Portugal, and Spain.
"I am thrilled at the opportunities this grant provides," said Heiden.  "I owe a great deal of thanks to the many people at John Carroll who have gone far out of their way to help me in my academic experience and in the grant application process, especially Dr. Rebecca Drenovsky, whose mentorship and support have made a massive difference for me in my college career."  During his Fulbright experience, Heiden will also have multiple opportunities to present his research to international scientists.
After graduating from JCU in December 2017, Heiden spent two months in Haiti as a field scientist with the nonprofit organization, Levo International, Inc. He worked on hydroponic methods for growing crops and established techniques that will improve plant health and yield.  The goal of this work is to develop community partnerships in Haiti to support sustainable agriculture.
The Fulbright U.S. Student Program offers research, study and teaching opportunities in over 140 countries to recent graduates and graduate students.
Posted on May 8, 2018