The Pre-Health Professions program is hosting a panel of John Carroll alumni health professionals on April 3, 2017 at 1:00 p.m. in Dolan 202/203.
All interested students are invited to attend!
Panel discussants include:
Michael Zacharias, D.O., F.A.C.C., '03 (chemistry)
Assistant Professor of Medicine
Medical Director of Mechanical Circulatory Support (MCS)
Section of Heart Failure and Heart Transplantation
Harrington Heart & Vascular Institute
University Hospitals Cleveland Medical Center
Louis Stokes VA Medical Center
Case Western Reserve University
Jeffrey M Salerno D.D.S., L.L.C., '98 (biology)
Family Dentistry: general, pediatric, cosmetic and implant dentistry
Alex Myers '14 (chemistry)
Second-year medical student at OU-HCOM, Cleveland
Joshua Krach '16 (cell & molecular biology)
First-year student at Case Western Reserve Medical School
Reception to follow the presentation.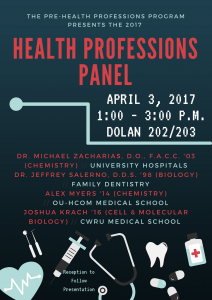 Posted on March 24, 2017