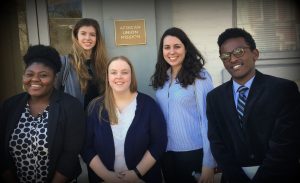 JCU's Model African Union, along with advisor Dr. Malia McAndrew, recently attended the 15th Annual Model African Union Conference at Howard University. Fifty-five schools participated in the simulation, including large and small universities as well as international participants. The JCU delegation represented Madagascar on the following committees:
Adil Abdulahi – Executive Council, Head of State
Mareike Amann – Committee on Social Matters
Jessica Coverdale – Committee on Social Matters
Hono Keita – Committee on Pan-Africanism and Continental Unity
Mariëlla van der Sluijs – Committee on Democracy, Governance, & Human Rights
Mariëlla van der Sluijs, a sophomore, won a Committee Leadership Award. Of the 54 nations present in her committee, Mariëlla was one of just three delegates to receive this honor for delegates who show the most significant contributions to fostering consensus, capturing the essence of complex issues, and leading their Committee toward effective action. Many thanks to political science Professor Mona DeBaz who taught Mariëlla parliamentary procedure via the Model Arab League.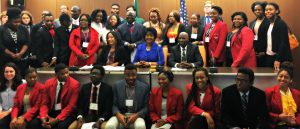 In addition to the competition, students traveled to the real African Union's mission in Washington D.C., where they were briefed by Ambassador Dr. Arikana Chihombori Quao. The Ambassador noted that she would be happy to receive astute AU participants as interns in her Washington, D.C. office.
Educational simulations such as the Model African Union are academic competitions that provide undergraduates with an opportunity to learn about diplomacy, international relations, and the workings of international bodies. These simulations require students to represent the interests of a nation whose history, politics, economic situation, and social challenges they research prior to their participation in the simulation. Preparation for these simulations often involves identifying appropriate resources, reading scholarly literature, preparing position papers and practicing debate skills with faculty. During simulations, students play the role of presidents, prime ministers, and other government officials and spend a weekend engaged in intense negotiations over conflicting issues with students from other universities who represent the interests of separate nations. As such, participation in Model African Union provides students with a unique learning opportunity that hones their critical thinking skills, allows them to apply creative and innovative thinking, and teaches undergraduates how to act competently in a global and diverse world.
Posted on March 3, 2017