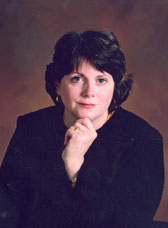 The Irish American Archives Society has honored Jeanne M. Colleran, Ph.D., dean of the College of Arts and Sciences at John Carroll University, with a 2014 Walks of Life award. The award recognizes individuals of Irish descent who have made an extraordinary contribution to their community.
Colleran, a native of Pittsburgh whose family originally came from Galway, Ireland, teaches Irish literature and has helped lead the University's previously honored Summer Institute in Peace and Conflict Resolution in Northern Ireland.
During her tenure as dean, Colleran has worked to enhance the prominence of Irish Studies at John Carroll. In September 2013, she traveled to Ireland as part of an economic development delegation led by Cuyahoga County Executive Edward FitzGerald. The delegation also included regional business and healthcare leaders.
While in Ireland, Colleran announced the expansion of the Irish Studies track in John Carroll's Master of Arts in Humanities program. Last spring, Colleran taught a new course, "The Wild Irish West: The Literature of Western Ireland."
Colleran also has helped strengthen John Carroll's partnerships with the National University of Ireland-Galway and the Mayo Society of Greater Cleveland. The society sponsors John Carroll students each year for a fully funded, semester-long experience at NUI-Galway. The society also sponsors NUI-Galway students at John Carroll each year.
A past chair of the Department of English, Colleran has held many leadership positions at the University, including co-chair of the Academic Planning Task Force. She is the only University faculty member to win all three of its major awards: the Culicchia Award for Teaching Excellence in the College of Arts and Sciences, the Curtis Miles Award for Service, and the University's Distinguished Faculty Award.
Posted on February 28, 2014