The most important introduction in Tom Pace's "Writing in the Professions" course happens when his John Carroll University students meet their client.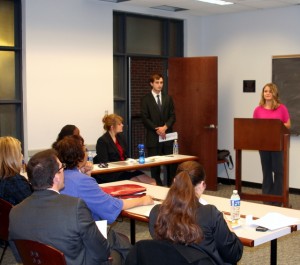 Pace, an associate professor of English, connects his class with area organizations seeking help with communication projects. The class recently collaborated with the Cleveland Clinic Office of Civic Education Initiatives (OCEI). The office partners with schools, businesses, and nonprofit organizations to promote science and math education, health and wellness, and innovation in the region.
When working with OCEI, students followed the same path that a professional writer would. They began with an initial briefing with their client. OCEI had two needs: promoting a health education web portal for K-8th grade students, and educating junior high students about infectious diseases.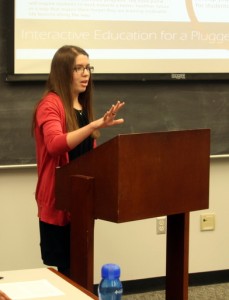 Pace's students divided into two teams, each focused on one of the projects. They set about researching their target audiences, formulating strategies, and testing concepts. In addition to Pace's mentoring, the students met throughout the semester with OCEI staff to receive feedback and refine ideas.
The students ultimately developed two solutions for OCEI. To promote the health education portal, one team created a postcard campaign for students and teachers with the theme "Connect. Engage. Inspire." The other team authored a book that uses narrative and storytelling to convey information about infectious diseases to middle school students.
With the creative work complete, next came the pitch. Students formally presented their projects to OCEI's senior director, director, and program manager. The teams responded to questions, explained the rationale for their approach, and reflected on their experiences working with a professional client.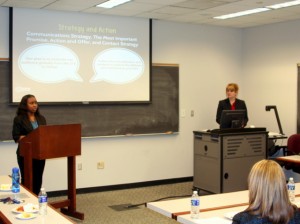 The students received a grade for their projects. But the exercise was more than an academic one. OCEI is implementing the professional writing students' ideas in its EXPLORERS and Spotlight on Learning programs.
"Writing for a professional audience helps students think beyond the classroom," says Pace, who directs JCU's professional writing program. "They are analyzing real challenges faced by organizations, developing creative solutions, and presenting their work. It's the kind of situation they will encounter daily in their careers."
Visit the JCU Professional Writing program website for more information, including alumni success stories and student internship sites.
Posted on February 18, 2014