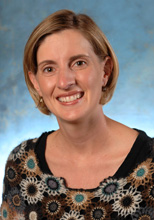 The 2014 recipient of the Curtis W. Miles Faculty Award for Community Service is Tracy Masterson '97, Ph.D., JCU assistant professor of psychology with a specialization in clinical child and adolescent psychology. As a graduate of John Carroll University and with graduate training and post-doctoral training in Northeast Ohio, she has used her local connections at the Cleveland Clinic Center for Autism, the Milestones Autism Organization, and the Monarch Center for Autism at Bellefaire JCB to connect John Carroll students to service and internship programs working with individuals with autism spectrum disorders.
Dr. Masterson has developed an academic course related to autism as well as student advocacy on the John Carroll campus through the establishment of the Autism Speaks U chapter at JCU. Her work with the Milestones Autism Organization has also grown steadily over the past several years, developing into the coordination of social events that connect individuals on the spectrum with JCU students, the placement of trained students as behavioral coaches with families, and speaking at their annual conference.
Additionally, Dr. Masterson is serving as the co-chairwoman for the 11th Annual 2014 Milestones Autism Conference. Her goal is to educate and excite students about the field of clinical psychology and autism spectrum disorders in order to help meet the growing community need for professionals trained in this field.
Read more about Dr. Masterson's work in this fall 2013 John Carroll University Magazine article, Work in the Autism Field.
Posted on January 31, 2014