A recently published book by John Carroll University history professor Daniel Kilbride offers a fresh perspective on Americans who traveled to Europe in the 18th and early 19th centuries—and how their experiences in turn influenced their sense of national identity.
In "Being American in Europe, 1750–1860" (The Johns Hopkins University Press, 2013), Kilbride explores a rich, but largely untapped, resource: the diaries and letters of ordinary Americans who trekked to Europe when tourism between the continents was still in its infancy. While literary critics and anthropologists have studied the European adventures of authors and other prominent individuals during that time, historians have largely overlooked the travels of Americans now considered to be obscure.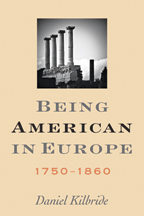 Journeying from America to Europe in the 18th and early 19th centuries was expensive and time consuming. As such, travelers would typically write detailed descriptions of their journeys to share with family and friends. Kilbride conducted an in-depth review of these documents at historical societies and libraries throughout the U.S.
Kilbride unearthed a tapestry of accounts and anecdotes that transcended the minutiae of a trip. The writings brim with the travelers' excitement and opinions, often reflecting the intense American patriotism of the time. But the diaries and letters also demonstrate the inferiority complex felt by Americans because of Europe's history and grandeur.
Kilbride's analysis does reveal instances of hyper-patriotic American travelers who resisted situating themselves within Europe. However, the book also suggests that many Americans came to define themselves not in contrast to the continent, but within it. They began to see Europe as a place of challenge—from and in which they could learn.
The hardcover edition of "Being American in Europe, 1750–1860" is available online from major booksellers. A Kindle format version for e-readers also is available from Amazon.com.
Along with research and travel support from John Carroll University, Kilbride received funding from the Historical Society of Pennsylvania, Library Company of Philadelphia, Virginia Historical Society, and American Antiquarian Society to conduct long-term research in their collections.
A member of the John Carroll faculty since 1997, Kilbride is chair of the Department of History. He teaches courses on American cultural and diplomatic history, the Civil War and antebellum eras, slavery, and the Atlantic World.
Kilbride primarily researches the cultural history of the 18th and 19th-century United States. He is especially interested in how Americans situated themselves in the community of nations. He is the author of "An American Aristocracy: Southern Planters in Antebellum Philadelphia" (University of South Carolina Press, 2006), and co-editor of "Southern Character: Essays in Honor of Bertram Wyatt-Brown" (University Press of Florida, 2011) in addition to several articles.
Posted on March 12, 2013