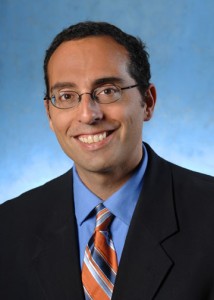 Professor of English Phil Metres, Ph.D., has received the 2012 Lucrezia Culicchia Award for Teaching Excellence, awarded annually to a faculty member in John Carroll University's College of Arts and Sciences.
Students, alumni, and faculty colleagues nominated Metres, who joined John Carroll's Department of English in 2001. He specializes in creative writing, poetry, American literature, and literature of war and peace, both in the U.S. and the Middle East.
"Dr. Metres not only bridges the realm of literature and creative writing and of teaching and writing," noted a colleague who nominated Metres. "Most important for a university that values social justice, he also links the space of the classroom to the world outside of it."
In their nominations, students and alumni described Metres as an innovative teacher and compassionate mentor. "Dr. Metres has a true passion for humanity," wrote one student, "and it is reflected in the way he relates to his students and encourages them to gain a new perspective of the world."
Metres has incorporated service-learning components into courses such as Introduction to Creative Writing. He also has taught courses in the University's Peace, Justice and Human Rights interdisciplinary major and minor program, and is coordinating the 2013 JCU Belfast/Northern Ireland Summer Institute in Peacebuilding.
In addition, Metres has written several books, including "To See the Earth," "Come Together," "Imagine Peace," "Behind the Lines: War Resistance Poetry on the American Homefront since 1941," and "abu ghraib arias." His work has appeared in "Best American Poetry" and "Inclined to Speak: Contemporary Arab American Poetry," and has garnered a National Endowment for the Arts grant, a Watson Fellowship, four Ohio Arts Council Grants, the Cleveland Arts Prize (2010), and the Arab American Book Award for poetry (2012).
Posted on October 11, 2012