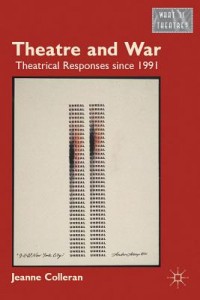 In her new book, Jeanne Colleran, Ph.D., dean of the College of Arts & Sciences and professor of English at John Carroll University, explores how the media, beginning with the Persian Gulf War, has altered political analysis and how that alteration has in turn affected socially critical art.
"Theatre and War: Theatrical Responses since 1991" (Palgrave Macmillan, 2012) examines more than 40 plays drawn primarily from the British and American stage. Most were written in direct response to the post-Cold War new world order and the subsequent 1991 war in Iraq, as well as the 9/11 attacks and retaliatory actions in Iraq and Afghanistan. Colleran's study covers works from established and emerging playwrights, theatre groups, artistic directors, journalists and others.
"Faced with rising tensions in the Middle East and other consequences of the U.S. wars in Iraq and Afghanistan, Jeanne Colleran's book could not be more timely or important," notes Jenny Spencer, associate professor of English at the University of Massachusetts, Amherst. "Her engaged and eloquent contribution to media and performance studies traces the impact of technological developments on the way wars have been waged, experienced, and understood by Western audiences since the first Gulf War in 1991."
Colleran, a John Carroll University graduate, has been a member of the English department faculty since 1987 and dean of the College of Arts & Sciences since 2010. Her research and teaching interests include modern and contemporary British and Irish literature, peace and conflict studies, African and South African literature, and modern and contemporary drama.
Colleran has helped lead the University's previously honored Summer Institute in Peace and Conflict Resolution in Northern Ireland. In addition, she served as the principal author of, and was awarded, a McGregor Fund grant to globalize the University's curriculum.
A past chair of the English Department, Colleran has held many leadership positions at the University, and most recently served as co-chair of the Academic Planning Task Force. She is the only University faculty member to win all three of its major awards: the Culicchia Award for Teaching Excellence in the College of Arts and Sciences, the Curtis Miles Award for Service, and the University's Distinguished Faculty Award.
Posted on September 6, 2012