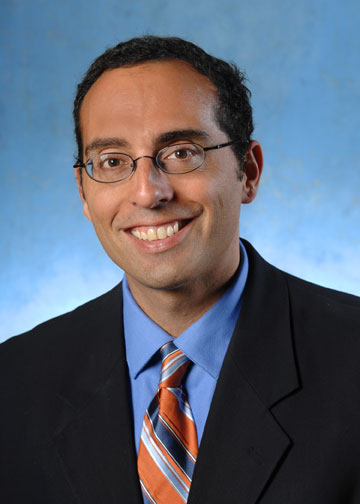 Philip Metres, Ph.D., a professor in John Carroll University's Department of English, has received the 2012 Arab American Book Award for poetry. Metres, who teaches American Literature and Creative Writing courses, and poetry writing workshops at John Carroll, received the national literary honor from the Arab American National Museum for his book, abu ghraib arias.  He will join other book award winners in a special ceremony, to be held in Michigan, in late September.
In abu ghraib arias, Metres explores the voices of war through the testimony of Iraqi prisoners and American guards at Abu Ghraib. The poem draws upon a number of sources: a Standard Operating Procedure manual for Camp Echo at the Guantanamo Bay prison camp, the testimony of Abu Ghraib torture victims, the words of U.S. soldiers, the Bible, the Code of Hammurabi, and various other texts.
Metres has written several other books, including To See the Earth, Come Together, Imagine Peace, and Behind the Lines: War Resistance Poetry on the American Homefront since 1941. His work has appeared in Best American Poetry, and Inclined to Speak: Contemporary Arab American Poetry, and has garnered a National Endowment for the Arts grant, a Watson Fellowship, four Ohio Arts Council Grants, and the Cleveland Arts Prize (2010).
Posted on June 26, 2012