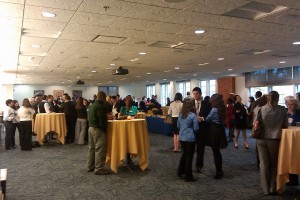 The Center for Career Services is hosting a Student and Employer Holiday Networking Event on Thursday, December 5th from 4:30-6:00PM in the Jardine Room located in the DJ Lombardo Student Center.
Students and employers have the opportunity to meet in an informal, social "cocktail party" setting. Non-alcoholic "mocktails" and light refreshments will be served.
STUDENTS: Come practice your communication skills while gaining industry and company knowledge. All current students, all class standings and all majors are invited to participate. Business attire is required. No need to bring resumes, but you should bring business cards if you have them.

Please register via Career Connection by no later than MONDAY, DECEMBER 2nd and receive a professional name badge at the event. While you're there, practice your "Elevator Pitch" (your quick introduction to employers that really sells your best assets) on InterviewStream. Just click on the InterviewStream icon on the left side in your Career Connection account.
EMPLOYERS: This event is free and an opportunity for you to meet with our students prior to the Annual Career Fair which will be held on February 6th, 2014. There will be no formal programming for this event to maximize networking time.
Space is limited so please register on Career Connection by no later than Monday, December 2nd. We are able to host up to two representatives per organization.
***We have reached our limit for employer registrations. We look forward to your participation next year!***