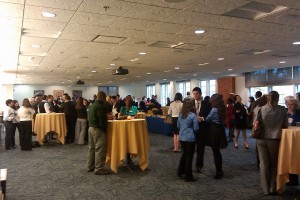 The Center for Career Services is hosting a Student and Employer Networking Event on Thursday, November 6th from 4:30-6:00PM in the LSC Conference Room located in the DJ Lombardo Student Center.
Students and employers have the opportunity to meet in an informal, social "cocktail party" setting. Non-alcoholic "mocktails" and light refreshments will be served.
STUDENTS: Come practice your communication skills with over 100 local professionals while gaining industry and company knowledge. All current students, all class standings and all majors are invited to participate. Business attire is required. No need to bring resumes, but you should bring business cards if you have them. Pre-registration is now closed, but you can register when you arrive at the event! View the attending organizations and recruiters here.
EMPLOYERS: This event is free and an opportunity for you to meet with our students prior to the Annual Career Fair which will be held on February 5th, 2015. There will be no formal programming for this event to maximize networking time. ***Employer registration is at capacity at this time.***
LIST OF ATTENDING ORGANIZATIONS:
Advanced-RV
AEP Energy
Aflac
Alexander Mann Solutions
AmTrust Financial Services
BMA Media Group
Boy Scouts of America – Greater Cleveland Council
Building Blocks Therapy LLC,
Catholic Community Connection
City Year
Classic Auto Group
Cleveland Clinic Foundation Marketing Department
Cleveland Foundation
Cleveland Municipal Clerk of Courts Office
Cleveland Museum of Art (The)
Connections: Health Wellness Advocacy
CREFCO
Dakota Software Corporation
DataServ
Deloitte
Dewey's Pizza
Drug Enforcement Administration
Electrolock Inc.
ESPN Cleveland
Fastenal Company Inc.
Federal Bureau of Investigation
First Investors Corporation
Global Healthcare Services Inc.
Innovative Integrations Inc. (i3)
Jaco Manufacturing Company
James Breen Real Estate LLC
Kaufman Container Company
Maloney + Novotny LLC
Marilyn Anderson State Farm
Maverick Insurance
Maxim Healthcare Services
MCPc, Inc.
MRI Software
NAP North American Power
National Interstate Insurance Company
New FOUNDATION For Children (The)
New York Life
Newpoint Education Partners
Northeast Ohio Regional Sewer District
Northwestern Mutual
OMNOVA Solutions Inc.
Positive Education Program
Primerica
Progressive Insurance
Quicken Loans
Recovery Resources
Redwood Living, Inc
Riverview Research
Rose-Mary Center
Ryder
Scotts Lawn Service
SecureState
Sherwin-Williams
Speedeon Data, LLC
SureSite Consulting Group, LLC
Things Remembered
TMW Systems, Inc.
Towlift
Unitrex
UPMC
Valenti's Ristorante
Vantage Financial
VIPerks