Every year the JCU Annual Career Fair hosts over 140 organizations seeking all majors, undergrad, grad students, and alumni for internship, full-time, volunteer, and seasonal opportunities.  The 2017 Annual Career Fair will take place on Thursday, February 2, 2017 from 4:30 to 7:00pm in the Dolan Center for Science and Technology.
EMPLOYERS:
John Carroll University students and alumni are in high demand to join dynamic organizations like yours.
Attend the Annual Career Fair to promote your organization to the more than 600 students and alumni that attend every year and recruit for any specific or future opportunities you have:
Full-time entry-level and experienced

Internships

Volunteer

Part-time

Temporary and Seasonal
Please visit http://sites.jcu.edu/academics/ for information on academic departments and programs of study at John Carroll University. This event is only open to JCU students & alumni. Organizations in every industry are invited to attend.
FEES:
SOLD OUT Not-for-profit/Government: $50
SOLD OUT For Profit: $150
SOLD OUT Blue Sponsors: $250 (includes: prime table location in the center of atrium, organization name on promotional materials, and reserved parking)
SOLD OUT Gold Sponsors: $350 (includes: prime table location under atrium arches, large banner with organization name and logo, organization name on promotional materials, and reserved parking in garage)
SOLD OUT Platinum Sponsors: $450 (includes: large area at the end of second floor wings with custom seating arrangements with large banner with organization name and logo above space, banner with organization name and logo at the entrance of wing, organization name on promotional materials, registration for four representatives and reserved parking in garage). Click on images below to enlarge.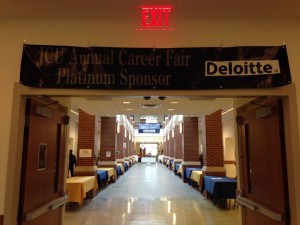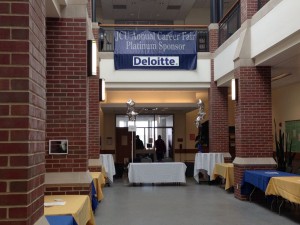 EMPLOYER REGISTRATION WILL OPEN FRIDAY, NOVEMBER 18, 2016. 
To register for the 2017 JCU Annual Career Fair, log in (or register for the first time) to Career Connection!
STUDENTS & ALUMNI
All current undergraduate and graduate students and alumni or all majors are invited to attend! Even if you're not actively looking for work, come and meet the different organizations that are interested in JCU students.
Registration is open now!! Registration is not required and you may come and go to the Fair as you please.  However, if you pre-register in Career Connection, you will receive helpful tips on how to prepare and a professional name badge when you arrive at the Fair. You will also be entered to win a $50 Target or Amazon Gift Card (to be eligible to win you must also attend the Career Fair). Deadline to pre-register is JANUARY 26. 
See below for a list of attending organizations. More information, including the majors they are seeking and available positions, can be found on Career Connection.
Professional dress is highly suggested. Bring multiple copies of your resume and business cards if you have them. 
Get your resume "career fair ready" at *RESUMANIA™ 2017! Get 1-on-1 resume feedback from the recruiters before the Career Fair!
No need to make an appointment, just stop by any of these sessions:
Wednesday, January 25: 1-3pm in the Jardine Room in the DJ Lombardo Student Center
Thursday, January 26: 12-2pm in the Jardine Room in the DJ Lombardo Student Center
Friday, January 27: 9am-4pm at the JCU Career Center
*RESUMANIA is a registered trademark of Robert Half International Inc. and is used with permission.
SEE YOU AT THE CAREER FAIR!
Attending Employer Organizations as of 1.23.17
21st Century Financial, Inc.
ABF Freight
Achievement Centers for Children Camp Cheerful
Advance Partners
Aflac
Ahola Corporation (The)
Airgas
ALDI Inc.
Alexander Mann Solutions (Third Party Recruiters)
American Ring
Anderson|Biro, LLC
AutoLine Marketing Group
Avery Dennison
Baillie Lumber Co., L.P.
Becker Professional Education
Bendix Commercial Vehicle Systems, LLC
Bock Lighting
Boy Scouts of America – Greater Cleveland Council
BrightEdge
Buckeye International,Inc
BudgetEase LLC
C.H. Robinson Worldwide, Inc.
Camp Asbury
Camp Wise – Mandel Jewish Community Center
Catholic Charities, Diocese of Cleveland
Catholic Community Connection
Cedar Point – Sandusky
City of Shaker Heights Recreation Department
City Year
Classic Auto Group
Clearsulting LLC
Cleveland Clinic – Beachwood
Cleveland Clinic – Emerging Business, Innovations
Cleveland Metropolitan School District
Cleveland Public Library
Cohen & Company
Congresswoman Marcia L. Fudge
Corporate United
Cuyahoga County
Cuyahoga County Public Library
Dakota Software
DDR
Defense Finance and Accounting Service
Deloitte
Dewey's Pizza
DRB Systems
Dwellworks, LLC
Eastern Cuyahoga County Umpires Association
Energy Deals LLC
Enterprise Holdings
Ernst & Young LLP
Fastenal
Freedonia Group, Inc.
Fund That Flip, Inc.
Genworth Financial
Great Lakes Cheese
GrowthPoint Inc.
Hiram House
Horizon Global
Hy-Ko Products
INSIGHT2PROFIT
Jewish Family Service Association
John Carroll University Graduate Studies/ Boler School of Business
JRayl Transport
Kenan Advantage Group, Inc. (The)
Knights of Columbus
KPMG LLP
Lake County Board of Developmental Disabilities/Deepwood
Lighthouse Wealth Solutions
Litigation Management, Inc.
Liturgical Publications Inc.
MacroPoint
Mandel Jewish Community Center
MarshBerry
Materion Corporation
MercyWorks Volunteer Program at Mercy Home for Boys & Girls
MFS Supply
Montefiore
MRI Software
MT Business Technologies Inc.
National Interstate Insurance Company
NEO Talent Exchange
Northwestern Mutual, Cleveland
O. R. Colan Associates, LLC
Oakwood Labs
OATEY
OBM – Ohio Business Machines
Ohio Citizen Action
OhioGuidestone
Oswald Companies
Park Place Technologies
Penske Logistics
Penske Truck Leasing
Peoples Bank
Positive Education Program
PricewaterhouseCoopers LLP
Progressive Insurance
Prudential Financial
PsychBC
PULSE (Pittsburgh Urban Leadership Service Experience)
Quicken Loans
Redwood Living, Inc
RG Barber Consultants, CPA's
Robert Half
RosmanSearch, Inc.
Shaker Heights Country Club
Shaker Historical Society
Sherwin-Williams
Simplified Logistics
Sirak-Brockett Agency
SIRVA Worldwide Relocation & Moving
Skoda Minotti
Skylight Financial Group
Socher Team (The)
SpyGlass Group, LLC (The)
STERIS Corporation
Superior Beverage Group
Surace Smith
TARGET Corporation
Techtronic Industries
TEKsystems
Tremco Incorporated (Group)
U S Equal Employment Opportunity Commission
U. S. Department of Labor – DFEC
U.S. Army Healthcare
U.S. Department of Commerce
U.S. District Court
Union Home Mortgage
University of Akron School of Law
University of Findlay
UPMC
Ursuline Sisters of Youngstown
US BANK
US Freight, LLC
USCIS
USDA-Natural Resources Conservation Service
Walgreens
Western Reserve Historical Society
WEWS – News 5
Wingspan Care Group- Bellefaire JCB, Applewood Centers & Life Works