In cooperation with:
The Federal Executive Board of Cleveland
Baldwin Wallace University
Case Western Reserve University School of Law
Hiram College
John Carroll University
Notre Dame College
Ursuline College
Cleveland State University will host the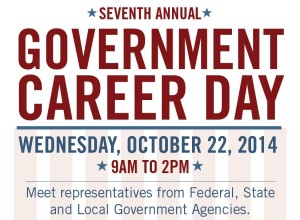 Student Center, Grand Ballroom, 2121 Euclid Avenue, Cleveland 44115
SCHEDULE of EVENTS:
9:00 am – 2:00 pm Career Fair-style tabling
9:30 am Find a job with Cuyahoga County
11:00 am Work for the State of Ohio – Learn how!
12:15 pm Keynote Speaker – *UPDATED* Admiral Fred Midgette, Ninth Coast Guard District Commander
1:00 pm Learn about the Pathways Program, how to navigate usajobs.gov and apply to federal jobs


We have more agencies than ever before this year and they are eager to meet with students and alumni of all majors and disciplines to impart internship and full-time job information! Learn about the different agencies! Find out what it takes to be a competitive job candidate! This event is FREE and open to the public!
Please dress professionally. Although agency representatives may not be able to take your resume, bring several copies with you.
Click here for parking information.
We are also offering free shuttle services to the event from JCU campus. Please call us at 216.397.4237 to reserve your spot!
Shuttle Schedule:
Depart JCU to CSU 8:30am
Depart CSU to JCU 11:00am
Depart JCU to CSU 11:30am
Depart CSU to JCU 2:00am
Once you're there, enter the raffle for a chance to win a $100 Amazon Gift Card!
Click here to view attending agencies and what majors they would like to meet!
GOVERNMENT AGENCIES: Recruit for openings in your agency. Explain your mission. Educate on what it takes to work for your agency. Establish relationships with Cleveland-area universities and other federal, state, and local agencies. Inspire participants to consider careers with the government! Agencies can register at www.csucareerfair.com
Questions? Please contact careerhelp@jcu.edu.