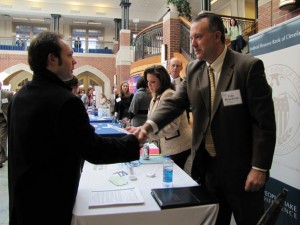 In cooperation with:
The Federal Executive Board of Cleveland
Baldwin Wallace University
Case Western Reserve University School of Law
Hiram College
John Carroll University
Notre Dame College
Ursuline College
Cleveland State University will host the
6th Annual Government Career Day!
Thursday, November 14, 2013
9:00am to 2:00pm
Student Center, Grand Ballroom
2121 Euclid Avenue, Cleveland 44115
SCHEDULE of EVENTS:
9:30am – Find a job with Cuyahoga County
10:45am – Work for the State of Ohio – Learn how!
12:15pm – Keynote Speaker U.S. Marshall, Peter Elliott, Discusses working for the Federal Government and how to navigate www.usajobs.gov.
GENERAL PUBLIC: There will be agencies representing FEDERAL, STATE, and LOCAL levels of government. Learn about the different agencies! Find out what it takes to be a competitive job candidate! This event is FREE and open to the public!
GOVERNMENT AGENCIES: Recruit for openings in your agency. Explain your mission. Educate on what it takes to work for your agency. Establish relationships with Cleveland-area universities and other federal, state, and local agencies. Inspire participants to consider careers with the government!
Agencies can register at www.csucareerfair.com
Questions? Please contact:
Barb Koeth at (216) 397-4431 or bkoeth@jcu.edu or Danielle McDonald at (216) 397-1676 or dmcdonald@jcu.edu.