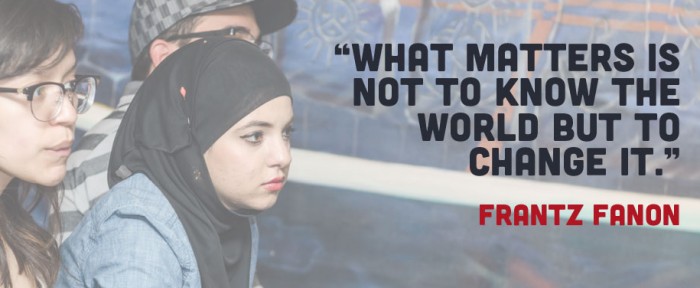 Want to do something rewarding this summer? VOLUNTEER! Here are some suggestions on some faith-based programs that offer full-time summer volunteer opportunities:
---
Reflection by JCU Alum Natalie Saville
Immokalee, Florida
Summer Volunteer
Immokalee, "My Home." I have often flirted with the idea of doing a year of post-grad volunteer service. During my junior year, it was brought to my attention that there are summer service programs. I looked at this opportunity as a way to get a slight taste of how a year-long commitment to service would realistically fit into my life.
The children in Immokalee tugged at my heart strings like no one else I have ever encountered. Many of the children's parents are migrant farmers, which means that their parents are gone all day picking tomatoes and other crops, and they often have to travel around the country to find work when different crops are in season. The children grow up with a lot less than many of us have. Not only are they monetarily less wealthy, but many of them lack the attention and love that was so essential to our own upbringing. Their parents are too busy working to feed and clothe them that they don't have the time to play with them or even give them as many hugs as children need. Needless to say, I spent much of my days hugging and playing games with eager, bright-eyed children.
While doing a summer of service was totally rewarding, I also had some difficulty transitioning into the experience. Many of my friends were living together at John Carroll and spending time with each other every day! At first this made me feel alone. All my friends were together in another state, and I didn't really know anyone in Immokalee except for my three housemates. However, I did my best to immerse myself in the community and be present to those around me, and by the end of the program, I had found myself at home in Immokalee.
I would definitely recommend doing summer service. It is a fabulous way to get involved in a community, learn more about social justice issues, and build a solid foundation with which you can use to make a difference in your own community. If you are heading off to a summer service program, my only advice is to jump right in and get involved! Building relationships with the people I worked with enabled me to understand their own experience of life more deeply. So don't be afraid to ask questions and truly get to know the children you're teaching or the co-workers beside you! Recognize their daily struggles until you can't separate them from your own existence and then you will see humanity at its heart. You only have a few short months so make them truly life-giving!
---
Reflection by JCU Alum Stefanie Jung
Bethlehem Farm, West Virginia
Summer Volunteer
Simplicity, service, community, and prayer—the cornerstones of Bethlehem Farm that were easy for me to remember ever since I first experienced them as a JCU immersion trip participant. Bethlehem Farm truly operates on these four cornerstones—every person living in the huge and beautiful log cabin in the West Virginian mountains is dedicated to serving their God, their community, and each other. Witnessing their lifestyle—a lifestyle of daily service through low-income home repair and environmental conservation, of group prayer and reflection, made me certain that I wanted to go back, and so I spent six weeks there as a Summer Servant, or helper, last June and July.
One of the most memorable homes I worked at belonged to an older lady who kept it spotlessly clean inside, who grew a huge garden in her backyard, and who loved to bake, taking her cooking to the members of her church in greatest need. Every single day we were painting her house, she made a home-cooked meal and invited us in to eat at her table. The homeowners Bethlehem Farm serves do not have a lot of wealth and resources to just give things away—they must make below a certain minimum income to apply for our services, and yet here she was giving so much to us, both her time, her skill of cooking, and her food supply (much of which she had grown out of her own garden). It was so humbling to accept so much from someone who had so little. I learned what it truly is to give of oneself that day—ironically not from the work I was doing, but from the woman who needed us to paint her house and who ended up serving us instead.
I lived with simplicity, taking away some of our modern conveniences, and becoming much more appreciative of the beautiful world surrounding me, the beautiful world that God created and has assigned us each to take care of. Living at Bethlehem Farm has caused me to be much more intentional about each of my daily actions, and to do each thing I do for a reason—to serve God.
Appalachia is a beautiful region of the U.S. that has been greatly taken advantage of in some respects and ignored in others. Its beautiful mountain-sides are blasted away so that trains can come and haul away the coal to be used in other states, while nothing is left behind but an ugly, empty hole where the green mountainside used to be. Then, there are many people living in poverty and at a means much beneath what I am used to, and yet they make do and keep a positive attitude through some of the hardest conditions. My time at Bethlehem Farm has taught me that God is present in people and in nature; I have only to take the time to stop—to let go of some of my material concerns—and notice that the peace and the relationships I am searching for are all around me. God is present in God's creation and it is amazing!