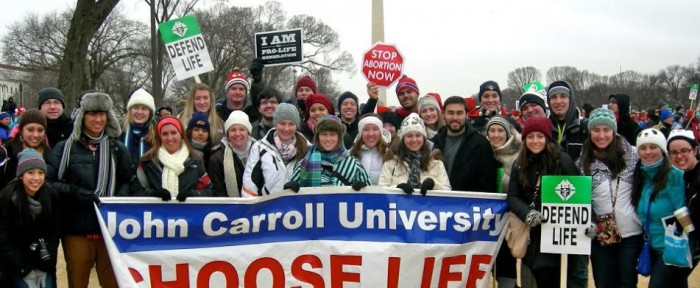 Below are some Social Justice & Service based Student Organizations sponsored by the department of Campus Ministry.
Celebrating its seventh anniversary at JCU, this project is named for Saint Benedict Joseph Labre who lived on the streets. Participants gather to pray and prepare food which they then share with men and women who are living on the streets in downtown Cleveland. The Labre project is not just a meal program, it's an opportunity to share fellowship. The group meets every Friday from 5-10 p.m. Sign-up in the Campus Ministry Hallway, or contact Keri Grove for more information.


The JCU chapter of this nonprofit, nondenominational Christian housing organization builds simple, decent, affordable houses in partnership with those who lack adequate shelter. "Work days" are scheduled on various Saturdays throughout the school year. For more information contact Brendan Carlin.


The Seeds of Hope organization is a mentorship program in cooperation with Big Brothers/Big Sisters. JCU students are paired with a middle-school-age student from Cleveland's near west side. For more information, please contact Mary Lutter.
A group of pro-life students meet every other week on Tuesday nights to talk about what it means to be pro-life and discuss current pro-life issues. The group also hosts various events throughout the year to make the campus more aware of Respect for Life. They attend the annual March for Life in Washington, D.C., in January, on the anniversary of Roe vs. Wade. For more information, please contact Emily Williams.