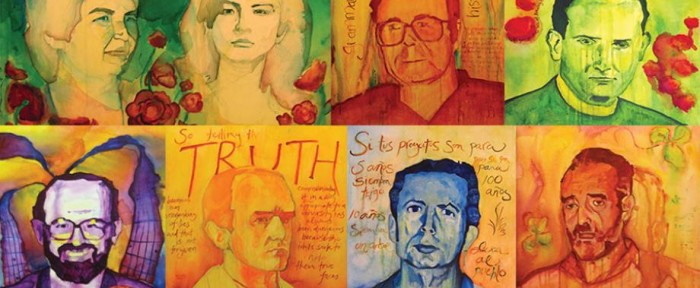 In the early hours of November 16, 1989, US-trained commandos of the Salvadoran armed forces (learn more here) entered the campus of the Jesuits' university, the Universidad Centroamericana (UCA), and brutally murdered the six Jesuits, together with two women who were sleeping in a parlor attached to their residence. The Jesuits were: the university rector Ignacio Ellacuría, 59, an internationally known philosopher; Segundo Montes, 56, head of the Sociology Department and the UCA's human rights institute; Ignacio Martín-Baró, 44, the pioneering social psychologist who headed the Psychology Department and the polling institute; theology professors Juan Ramón Moreno, 56, and Armando López, 53; and Joaquín López y López, 71, founding head of the Fe y Alegría network of schools for the poor. Joaquín was the only native Salvadoran, the others having arrived long before from Spain as young seminarians. Julia Elba Ramos, the wife of a caretaker at the UCA, and their daughter Celina, 16, were eliminated to ensure that there would be no witnesses.
These martyrs worked for negotiations to end the violent civil war while being a voice for the voiceless. To seek living out faith and service to promote justice for and with others is the legacy left by these Jesuit Martyrs.
This was one crime in a long series that included the martyrdom of Rutilio Grande SJ in 1977, and those of Archbishop Oscar Arnulfo Romero and the four US missionaries: Jean Donovan, Ursuline sister Dorothy Kazel and Maryknoll sisters Ita Ford and Maura Clarke, in 1980. They all mixed their blood with that of tens of thousands of lesser-known civilian victims of El Salvador's civil war of 1981 to 1992, which moved the world with its extremes of cruelty and of heroic generosity.
The UCA martyrs stood for a Church of the poor (in the words of Pope John XXIII) which would serve as a vanguard of this new society, modelling equitable social relations and solidarity; a prophetic Church like the one that Archbishop Romero symbolizes, which gives credible witness to the fullness of life that God promises.
The UCA martyrs knew they were risking their lives. But they understood that that was the price of being human in their time and place; that was the cost of following Christ. Today we give thanks for them, and many like them who inspire us to live up to the challenge of our own time.
Every year we remember their death through the commemoration at the School of the Americas.
–Adapted from Thinking Faith. For the full article, click here.