Are you a senior who is anxious about graduating?
Not sure what your next step is after Carroll?
Want to talk with your peers about your questions and your plans?
Senior Conversations is a three-part conversation series that allows seniors to gather for casual, candid, and meaningful discussions about their joys and talents, and how they can use them in life after college. A senior student and a faculty member co-host the series. Each session focuses on one of the "Three Key Questions" including: What brings you joy? What are you good at? Who needs you to do these things?
The program offers a relaxed and social environment where seniors develop the tools necessary to engage in the process of discernment. The conversations also provide a space where they can share their fears and anxiety about the uncertainty of life after graduation, as well as their hopes, interests, and opportunities for the future.
Whether you have definite plans for next year or have no idea what's next; whether you are considering full-time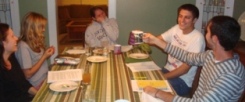 employment, graduate school, post-graduate volunteer service or anything else, this program is for anyone who wants intentional and reflective conversations about the issues. The only requirements of the program are that participants are graduating seniors (in either December or May) and are able to attend all three 2-hour sessions with the group for which they have registered. Senior year can be a stressful time. Senior Conversations are designed to ease some of this stress for seniors by getting them excited about the possibilities that exist after graduation.
Each night includes the following:
Share refreshments
The "Examen": Jesuit way of "praying though" one's day
Watch one segment of the "Three Key Questions" video with Rev. Michael Himes, Professor of Theology at Boston College. The "Three Key Questions" include:
What gives you joy?
What are you good at?
Who needs you to do these things?
Discuss DVD and ideas, thoughts, feelings.
__________________________________________________________________________________________________________________________________________________________________________________________________________________________________
This program is adapted from the Intersections Project at Boston College
If you have any questions, please contact Paula Fitzgerald or Carrie Pollick in Campus Ministry.