Gillian Halusker & Chelsea Neubecker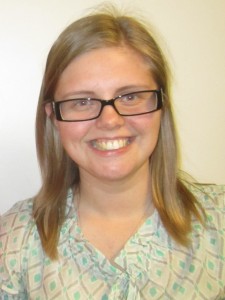 Mondays 8pm
Gillian is the Resident Minister for Bernet, Millor, and Dolan. She graduated from Xavier University in 2010. She is a native of Cleveland and a Graduate Assistant in the Theology department. Besides service and retreats, she enjoys knitting, reading, playing tennis, and vegan cooking.
Chelsea is a English literature and history major, with a minor in Catholic studies. She is a senior from Buffalo. On campus, she works at the Career Center. She likes that CLCs allow you to get to know someone's actual values. She says, "I enjoy getting to know people on a spiritual level."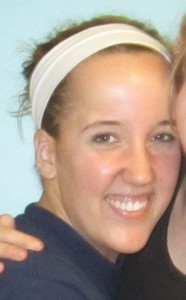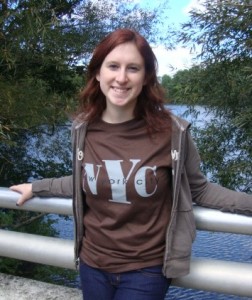 Sarah Ruppert & Angelina Huber
Mondays 8pm
Sarah is from the D.C. area. She's a junior accounting major and enjoys singing, traveling, and sleeping. She's been involved with CLC since her first year on campus and appreciates having dedicated time to talk about faith once a week.
Angelina was in Sarah's CLC last year and now joins her as a co-leader. She's from Thompson, Ohio, and is a sophomore bio-chemistry major. She's always had people in her life who influenced her faith, and she wanted to do that for others as a CLC leader. She likes to sing and play "Just Dance!"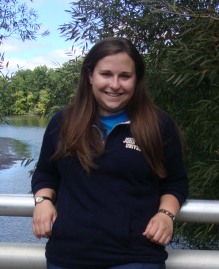 Jess Kruezer & Joe Schafer
Mondays 9pm
Jess is a senior finance major from Buffalo. She is a member of the pep band, RHA, and the AK Psi business fraternity. In her free time, she likes to read outside. About CLCs Jess says, "I like having the chance to take an hour out of my hectic schedule and talk with others about my faith."
Joe is a junior accountancy major from Bellevue, Ohio. He works in the athletic department and is a member of the Knights of Columbus and the accounting association. He likes that CLCs bring together people from different walks of life, and that people can share and learn from each other in ways that usually don't happen.
Tim Johnson & Elena Elskens
Mondays 9pm
Tim is a junior from Pittsburgh and is a political science and English major. He is involved with the leadership scholars program, his fraternity, student union, and Carroll News. He enjoys "seeing other people's spirituality grow and flourish; it gives me hope for my own spirituality."
Elena is a senior accounting major and economics minor from Detroit. She is part of the accounting association and works at the Cleveland Clinic. She enjoys having "time set aside every week to reflect and grow spiritually that might get lost otherwise."
Tuesdays 7pm
Brad is an engineering and physics major from Norwalk, Ohio. He's a football manager and a Manresa retreat leader this semester. He likes playing Xbox and hanging out with friends. About CLCs he says, "I enjoy the scheduled set aside time from the busyness of life to talk about your faith life and grow together."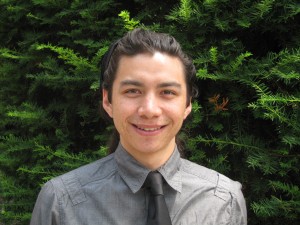 Russell Lum
   Tuesdays 7:30pm
Multifaith/Spiritual-but-not-religious group
Russell is the Resident Minister for Sutowski and Pacelli. He is a native of rural Northern California and attended Loyola Marymount University (in Los Angeles). After graduating, he volunteered with the Little Sisters of the Assumption in New York City. Russell sees a need to listen for the ways that our spirituality (and our God) would have us resist and organize against certain things, as well as build up and nurture certain things.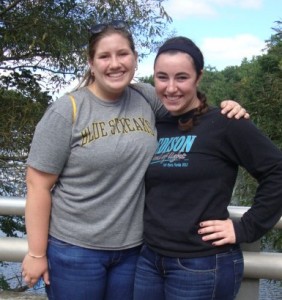 Anna Lawler & Nora Cuthbertson
Tuesdays 8pm 
Anna is a sophomore majoring in sociology. She's from the Chicago area. She drives for CSSA and tutors with We the People. In her free time, she likes to make art and read. She says, "CLC is empowering because it puts me in a position of leadership, but I also grow from what I learn from others."
Nora comes from Berlin Heights, Ohio (near Cedar Point). She is considering a major in accounting. She's been involved with Respect for Life, ski club, and Immersions, and she likes to journal and watch TV. She says that CLC allows her "to express and practice my faith alongside my peers."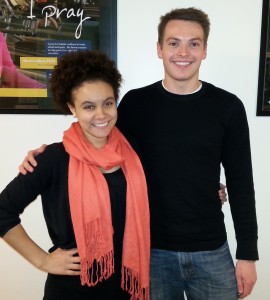 Emily Terry & Nick Bockanic
Tuesdays 8pm
Emily is a peace, justice, and human rights major. She's involved with theater (on and off campus), African American Alliance, Allies, and Students for Social Justice. In her free time, she enjoys the chance to sleep, eat, and read! She says that CLCs are "a great opportunity to ask questions I've been wanting to know and experience new perspectives about faith."
Nick is a business management major with leadership and communications minors. He's on the JCU swim team and enjoys relaxing and getting food with friends. As a member of a CLC last year, he was inspired to find a unique way to do things as a leader this year, and "to put my own spin on what CLC meant to me."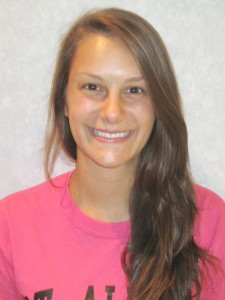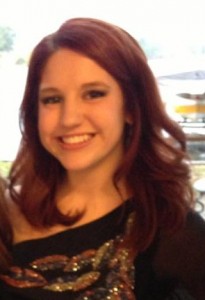 Kristen Gittinger & Julie Lazanich
 Tuesdays 8pm
Kristen is a junior communications major and religious studies minor. She's involved in Seeds of Hope, Arrupe Scholars, Students for Social Justice, and Immersions. She says, "I love CLC because it brings me back to what is important in life. CLC has given me a group of friends I can lean on and the opportunity to further develop my relationship with God."
Julie is a sophomore hailing from Cleveland. She is studying Chinese and Business Marketing and is an Arrupe Scholar and a member of Students for Social Justice. To her, CLCs is the perfect "Jesus breather" where she and her group are able to come together in a sacred space and share where God is present in their lives.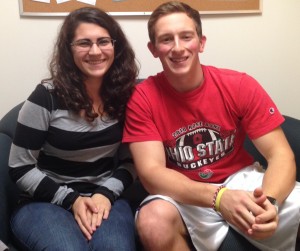 Jackie DiFrangia & Christian Brandetsas
   Wednesdays 7pm
Jackie is a sophomore from Mentor, Ohio, and is considering a major in communications or English. She likes reading and watching movies. One of her favorite things about CLC is meeting the new people and seeing them around campus.
Christian is also a sophomore from Mentor. He's majoring in accountancy and finance. He likes watching football, working out, and driving country roads on fall days. He enjoys CLCs because they help people embrace the idea of faith, which doesn't always have to be about God. In CLCs, people can agree on something and believe in something.
Wednesdays 8pm
John is an RA in Dolan. He's a junior theology major from North Olmsted, Ohio. He has a frisbee collection, is a big Cleveland sports fan, and his favorite food is chicken patties. John says, "I like being part of CLC because it gives me the opportunity to take an hour out of my week and reflect, focus on my spirituality, and discuss the presence of God with my peers."
Keri is a junior from South Bend, Indiana. She's majoring in peace, justice, and human rights and religious studies. She's involved in Labre, club basketball, and Immersions, and recently spent a semester in El Salvador. She enjoys corn on the cob and dancing in the rain. She enjoys CLC for the "meaningful communities built through the friendships I make."
Kelly Maduri & Molly Nemunaitis
Wednesdays 8pm
Kelly is a senior biochemistry major from Solon, OH. She's the vice president for JCU's American Chemical Society and a chemistry tutor. She says, "I fully appreciate my hour every week that I get to share with amazing people and with God in my CLC. It's nice to take a break from a busy schedule!"
Molly . . .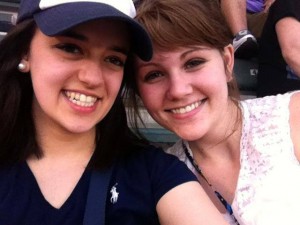 Brianna Lazarchik & Abigail Rings
Wednesdays 8pm
Bri is junior from Pittsburgh. She's majoring in economics and minoring in Catholic studies. She describes CLC as "a fantastic, laid-back, and strong community that has done wonders for my faith life and allowed me to build connections with people that I otherwise never may have met."  She encourages everyone to try out CLC at least once, regardless of their faith background.
Abby is a junior from Richfield, Ohio, majoring in Professional Writing with minors in Communications and History.She is a campus editor for The Carroll News and works in the library. Abby credits CLCs as a major factor in her growth at JCU and says that it really is true that you never truly know a person until you have been in a CLC with them.
Group for Liturgical Ministers
Erin is the Resident Minister for Campion and Hamlin. She graduated from Saint Mary's College and then served at Maggie's Place (a home of hospitality for pregnant women who are without support) in Cleveland. She is currently pursuing her Master's in Nonprofit Administration through the University of Notre Dame. She tries to live by the motto: "Pray like everything depends on God and work like everything depends on you."