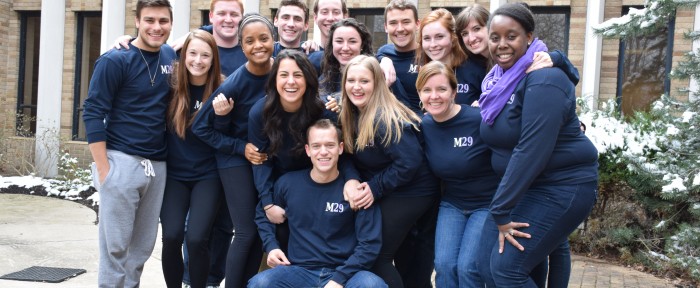 Please access the Team application for Manresa 30 & 31 here.
Interested students may sign up for an interview here.
All former retreatants will be e-mailed information about the application process. Anyone who has previously attended the Manresa Retreat is eligible to apply for Manresa Retreat Team. Team members meet during the semester to pray, plan and prepare. 
Manresa 30 will be held October 28 – 30, 2016 and Manresa 31 will be held November 11 – 13, 2016, both at Villa Maria Retreat Center. 
Team meetings are held on Tuesday (M31) or Wednesday (M30) nights from 9:15-11:30PM and begin in mid-September; in addition there are other responsibilities and meetings, including a planning retreat in October. Being on Team is a significant time commitment. Students who want to apply should carefully consider their academic schedule, extra-curricular involvement, work, and other responsibilities.
Andy and the senior co-leaders conduct interviews and select the Team during the last week of August and first week of the semester. There are nine Team positions. We look for a diverse group of students representing different class years, student involvement and ways of expressing spirituality.
If you have any questions please contact Andy or one of the senior co-leaders Nick Averback, Marina Giannirakis, Dan Clifford or Laura Gagliano.