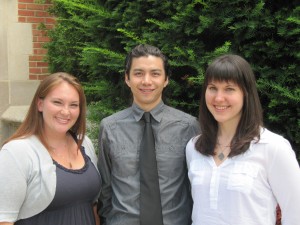 Resident Campus Ministry Interns (RCMIs) live in apartments in residence halls and are considered an integral part of the Campus Ministry staff. RCMIs provide a pastoral presence, especially during difficult personal times, and they are also responsible for implementing a range of programs and activities that promote a "faith that does justice." Resident Campus Ministry Interns work in conjunction with Residence Life staff, supporting them in building community and promoting the mission of John Carroll University through education, service, advocacy, prayer, and reflection.  The mission of RCMIs is to engage and animate the residents in order to integrate spiritual development with daily life and learning.
Resident Campus Ministry Interns participate in Campus Ministry activities such as:
Leadership of a weekly faith sharing group (Christian Life Community – CLC) with residents
Ministering at Sunday worship (6 p.m. or 10 p.m.), and all major University liturgies
Facilitating opportunities for reflection and spiritual growth and integration including:
Weekly "Murphy Mass" (Wednesdays at 9:30 p.m. – for AY '13-14 in St. Francis Chapel due to Murphy Hall renovation)
Overnight or day-long retreats
Reflective programs/activities on various topics or themes
Community-building activities, often in conjunction with Residence Life staff
RCMIs can be a great resource to all students and especially to first year students as they navigate the transition and adjustment to college life and explore issues related to spiritual development and faith identity, as well as relationships, career pathways and vocation, and many more.