Campus Ministry offers several opportunities for student involvement in the liturgy as student ministers. Some examples include:
Eucharistic Ministers (Extraordinary Ministers of Holy Communion)
Lectors (includes Readers of Petitions)
Sacristans/Mass Coordinators
Liturgy Committee Members
Altar Servers
Eucharistic Ministers must be confirmed members of the Roman Catholic or Byzantine Church (or other Catholic Church in communion with Rome).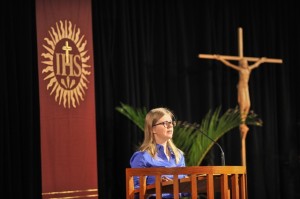 Lectors include those who read the petitions at Mass. Readers must be baptized Christians.
If you are interested in pursuing any of these ministry opportunities click Liturgical Ministers Interest Form or contact Gail Roussey, coordinator of liturgy, at groussey@jcu.edu, or by phone at 216.397.4766.