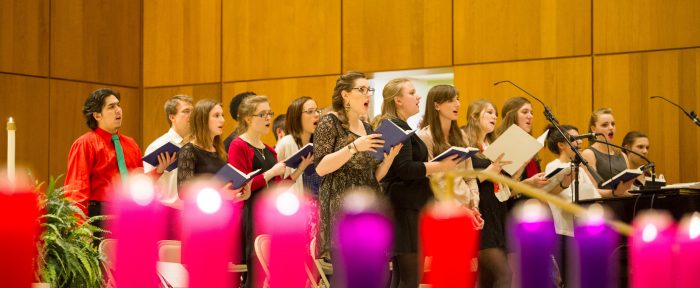 The Department of Liturgical Music and Musical Arts sponsors worship services, recitals, and liturgical music groups for weekly Mass and special events. Music is provided at the 6 p.m. and 9 p.m. Sunday Mass through student participation in song and instrumental music. We invite you to consider participation.
The Chapel Ensemble
This vocal/instrumental group is composed of students, faculty, and staff. It rehearses on a regular basis and provides music for Sunday liturgies. In addition, it works with special liturgies such as the Mass of the Holy Spirit, Parents' Weekend Mass, Christmas Carroll Eve Mass, and Baccalaureate Mass, as well as for special prayer experiences. No audition is required. The Chapel Ensemble may also be taken for academic credit.
They rehearse each Sunday in the Saint Francis Chapel at 8 p.m. and sing the Mass directly following the rehearsal at 9 p.m. All are welcome!
Please contact Cynthia Caporella, Ph.D., or visit the Liturgical Music and Musical Arts website for more information about opportunities to use your gifts of song and music at John Carroll.